In real estate investing, bird dogging is the process of locating properties with investment potential, and then passing those properties on to a real estate investor in return for a commission.
How to Make Money Bird Dogging Real Estate
Research and Specialize
Connect with Investors
Find Motivated Sellers
Protect Yourself
If you're wondering how this real estate investment opportunity acquired such a unique terminology, it relates to hunting. A bird dog is a canine that uses its olfactory powers to help its master locate birds, while also retrieving downed birds and bringing them back to the hunter. Like a Labrador trotting up to its owner with a pheasant in its mouth, a bird dog will make the rounds with his or her connections in their real estate investors network, investment lead in hand.
What is Bird Dogging?
As mentioned, the term bird dogging comes from hunting, and that's essentially what a bird dog does in real estate. Whether it's for commercial real estate or residential real estate, this individual will go around (either digitally, in a car, or on foot) looking for properties that have potential. These properties might present a great investment opportunity for those who flip homes, rent out multifamily housing units, or love the process of a rehab and resale. Whatever the case may be, bird dogs hit the streets looking for deals.
In this way, bird dogging is similar to wholesaling real estate. A wholesale deal in real estate is not like the way the term is applied to retail. Rather, a wholesaler will go around looking for motivated sellers, buy their property, and then immediately find an investor to sell the property to, even before they buy the home from the seller. In many cases, this process is accomplished by creating a special type of contract that can be reassigned, though in some states there are limitations on this practice that instead force the wholesaler to form a land trust and pass the home on to the end buyer by selling a share in the trust.
In any case, a bird dog can avoid all these contractual complexities (and the slight financial risk associated with wholesaling) because when wholesaling real estate, the wholesaler will often need to front some hard cash to lock the seller into the contract. A bird dog doesn't need to put any money down other than the sweat equity they invest in running around town or browsing online marketplaces. They find deals, and pass them along to someone else who wants to put up the cash, whether that person is the end buyer or a wholesaler themselves.
How to Make Money Bird Dogging Real Estate
Research and Specialize
One of the biggest reasons that real estate investing for beginners is so off-putting to many people is that they think investing in real estate requires money. For most people, purchasing a property does involve saving up a decent amount of money for a down payment. Of course, investors know that there are other ways to fund a purchase using OPM (aka, other people's money.) But bird dogs can avoid the money issue all together. They do, however, need to make an investment in researching properties.
In today's day and age, it might be tempting to just browse the internet for deals, but nothing beats educating yourself about a neighborhood by driving through it. Like most other types of real estate investing, a successful bird dog will probably want to specialize in one type of property and no more than a handful of locations, so they can develop a keen sense of what's a deal and what's a dud.
Unfortunately, venues like auctions or the ad section of a magazine are often full of properties that are too late to be a good opportunity for a bird dog. The research that a bird dog performs really needs to be on the front lines of the real estate market.
Connect with Investors
Building a network is crucial for any type of real estate investor, but one could say that what bird dogging lacks in terms of needing cash, it makes up for in terms of needing a network. This is because bird dogging will generally yield smaller rewards for its work, since it's a commission-only field. And since the commissions are smaller, that means you have to make the deals move faster. Nothing beats a solid network of real estate professionals. Joining a real estate investors association can do wonders for growing a network of motivated end buyers (as well as learning more about the local real estate market). Social media networks, like LinkedIn, are also an excellent place to connect with motivated real estate investors who will make your work worthwhile. Whatever the case may be, you should always be expanding your network to include as many real estate investors as you possibly can.
Find Motivated Sellers
Once you've done your research and built your network, it's time to find the deals. Bird dogs are a resourceful lot with a number of tricks up their sleeves. Your strategy could be as simple as a well-placed sign reading, "We Buy Homes for Cash". This is a common lead acquisition strategy used by wholesalers, but it works for bird dogs too. You can drive around neighborhoods and look for "For Sale by Owner" signs to locate deals that can be directly negotiated without the interference of a real estate agent (who, in some senses, can be viewed as a sort of official and licensed bird dog with a more mainstream marketing strategy). You can also browse Craigslist or reach out to your own personal network. However you find them, you'll need to put some work into checking out the deal. Thankfully, you can often leave elements like a home inspection up to the end buyer or real estate investor you're passing the lead on to. At the same time, you will still want to create a process for verifying that the motivated seller in question actually owns the property and that all the paperwork is in good standing.
Protect Yourself
You might think that since bird dogging has little financial risk since it doesn't require any cash capital to get started, or that there is no real need to protect yourself with a vehicle such as an LLC (limited liability company). However, there are still plenty of ways for a frustrated real estate investor or end buyer to entangle you in a lawsuit for misrepresentation, especially if the motivated seller you've obtained was misrepresenting their ownership of the property.
Even though the phrase bird dogging might connote the image of a lucky and plucky individual with rolled-up sleeves hitting the streets, any successful bird dog will want to hedge their bets with some paperwork beyond the pluck and luck.
A contract defining the scope of your involvement will not only help keep you out of trouble, it can also make it possible to recover money in court or through arbitration if your promised commissions don't materialize. Moreover, if bird dogging becomes more than a hobby, you won't be able to hide your efforts from the IRS. You'll need to set up a tax strategy, even if you're avoiding some of the concerns that burden the end buyers and real estate investors such as real estate taxes.
How to Find Bird Dog Real Estate Deals
A good deal in terms of bird dog real estate often involves driving for dollars. The real estate industry has plenty of venues for locating a foreclosure or distressed property. And in terms of the more standard consumer-facing real estate business, a successful real estate investor can often locate an opportunity at the intersection of underpriced properties and motivated seller leads.
A real estate bird dog might have a hard time finding real estate deals on the typical real estate site due to market saturation. Such venues are often swamped by investors, agents, and homebuyers. What's left, by and large, is becoming a good old fashioned property scout in search of a finder's fee.
An experienced bird dog is more than a match for a professional real estate investor when they're on the ground and on the hunt. And the most promising sign they're looking for is a "For Sale by Owner" sign in a neighborhood of undervalued properties. These motivated sellers can be approached directly, and the bird dog doesn't need to worry about doing any of the negotiation. Their work is done once they pass the opportunity on to a cash buyer or investor.
As previously mentioned, putting up some signage can also be a great way to bring a motivated seller right to your doorstep. Nevermind that you're not the actual cash buyer that will be purchasing the home; the seller doesn't need to know that. Instead, you can present yourself as a representative of a real estate business, which will look more professional. The actual registered nature of your real estate business can simply be listed as a consulting service, which is essentially what you'll be providing.
In most cases, talking to the homeowner and getting a sense of how much they're looking to sell their home for is not a bad idea. That will let you know what numbers you'll need to present to your network. Over time, as you get better at assessing real estate and running the number of comparable properties in the neighborhood, you may even be able to make recommendations to the homeowner when you feel a price adjustment is necessary.
The hidden gem of bird dogging is connecting with someone who owns a property preservation company. Someone who works at a property preservation company will often not have the leeway to inform you of deals. But the owner of such a company—the services of which are solicited by banks to maintain foreclosed and distressed properties—can become a gold mine for hot properties at the lowest possible prices before they even hit the auction sites.
Should I Start Bird Dogging Real Estate?
As you've seen in this article, bird dogging is a great way for resourceful and hardworking individuals with a little extra time on their hands to get in the real estate game, with very little risk and virtually no cost. It will still require some requisite effort to protect yourself from liability, but you can protect yourself with the proper business structure.
Though the term usually applies to locating opportunities that will result in buying and selling or investing, the principles of bird dogging can also involve other aspects of real estate investing, such as real estate asset management. A conversation with a frustrated landlord or quick drive by what looks like a very poorly managed apartment complex can spark a conversation with a property manager. You never know who may acquire a new client and refer you some business.
No matter the end result of your bird dogging work, investing a little elbow grease in the hunt for deals can snowball into a decent side income or even full time income for hardworking and resourceful individuals looking to work their way up the real estate investing ladder into bigger opportunities.
3 Steps to Create an Invisible Investor Strategy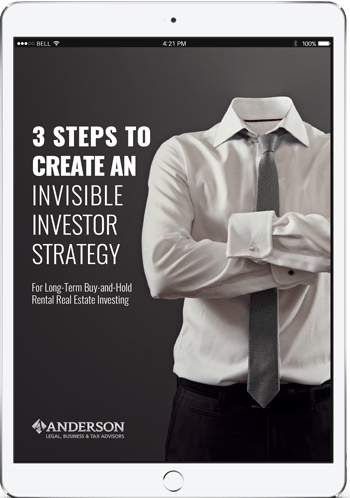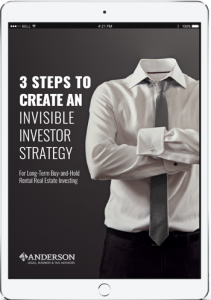 The greatest mistake that people make when it comes to asset protection for real estate is not understanding the risks that are waiting out there for them. This eBook reveals the structure you should follow to ensure your hard earned money is protected from frivolous lawsuits and costly tax mistakes.