Updated November 10, 2020
A real estate attorney offers a variety of legal services related to real property and transactions involving real property. Real estate transactions often involve significant financial investments. Working with a real estate lawyer helps protect your investment.
What Does a Real Estate Attorney Do?
Negotiate Real Estate Deals
Draft and Review Real Estate Contracts
Perform Title Searches
Write Title Insurance Policies
Prepare Real Estate Closing Documents
Handle Real Estate Disputes and Litigation
Represent Parties in Foreclosure Actions
Handle Zoning and Land Use Issues
File Quiet Title Actions
Draft and Review Leases and Subleases
Construction Loans and Contracts
Handle Adverse Possession Claims
Handle Survey Disputes, Encroachments, Rights-of-Way, and Easements
Prepare and Review Restrictive Covenants
A real estate attorney may represent a variety of parties. Real estate lawyers represent buyers, sellers, realtors, lenders, landowners, brokers, home builders, residential and commercial developers, investment managers, and many others.
However, an attorney can only represent one party to a real estate transaction. Representing multiple parties could create a conflict of interest. An attorney's job is to protect his or her client's best interest. The attorney cannot do that when the attorney represents parties that have adverse concerns.
Throughout a real estate transaction, the attorney provides sound legal counsel to his or her client. He carefully reviews all documents involved in the matter and analyzes applicable laws, ordinances, and regulations. The goal is to protect the client's investment or interest in the real property and any improvements.
What Does a Real Estate Attorney Do?
Real estate lawyers handle a variety of matters. A commercial real estate attorney handles matters related to commercial property, such as developing retail stores, office buildings, and entertainment venues. A residential real estate attorney handles matters related to single-family and multi-family homes. Some real estate lawyers handle transactions involving all types of real property. Other real estate law firms may focus on issues related to real estate taxes or setting up real estate LLCs.
The services provided by real estate attorneys vary. Some attorneys choose to focus their real estate practice on specific areas of real estate law, such as mortgage closings or real estate development.
Examples of legal representation provided by real estate lawyers include:
Negotiate Real Estate Deals
Negotiating a real estate deal can be a complicated undertaking. Both parties want to ensure that they receive the maximum benefit from the transaction. An attorney performs due diligence to protect the client's best interest while giving the client legal advice regarding the real estate matter.
Real estate deals may include:
Purchase Contract and Sales Agreements
Lease Agreements
Real Estate Development and Construction Agreements
Investment Agreements
Setting Up a Land Trust
Negotiating an Eminent Doman Claim
It benefits each party to have an experienced real estate attorney involved in the negotiation of a real estate transaction. The lawyer understands real estate laws and the steps that are necessary to protect his client from risky investments and future real estate disputes.
Draft and Review Real Estate Contracts
Real estate contracts protect all parties to a real estate transaction. However, if a real estate contract is not drafted correctly, the parties could incur substantial costs and time attempting to enforce the terms of the contract. Real estate lawyers have extensive experience drafting and reviewing real estate contracts.
Common types of real estate contracts include:
Purchase Agreement
Real Estate Assignment Contract
Lease Agreements
Real Estate Power of Attorney
Listing Agreements
Land Contracts
Optional Agreements
Buyer Agency Agreements
Seller Disclosure
Mortgage Loan Agreement
Offer to Sell
Rental Agreements
Many more contracts are used in real estate transactions. An attorney is responsible for ensuring that all legal elements are included in the contract to ensure that the contract is enforceable in court. The basic elements of contracts include an offer, acceptance, consideration, mutual assent, capacity, and legality. Depending on the laws within a specific state and the type of contract, there could be other legal requirements for a valid contract.
It is important to have an attorney review a real estate agreement before signing the contract. Breaching a contract (failing to perform the terms and conditions within the contract) can result in costly real estate litigation and damages. The party failing to perform under the real estate contract could be held liable for damages, legal fees, and other costs involved in enforcing the contract.
Perform Title Searches
Title searches are not required in all real estate transactions. However, a title search is strongly recommended whenever property changes hands or whenever an interest in a piece of property transfers from one party to another party.
Performing a title search involves analyzing the chain of title for up to 40 or 60 years. The chain of title is the list of individuals or parties who have owned the property during the time period of the title search or had any interest in the property during that period.
Typical steps in a title search include:
Setting up the chain of title and reviewing each deed to ensure that the deed was legally executed and that the seller had the legal right to transfer the property to the buyer.
Searching for mortgages, liens, and other encumbrances secured by the property and ensuring that each encumbrance was released correctly.
Reviewing the surveys for problems that could impact the property owner's right to complete possession of the property, such as rights-of-ways, encroachments, easements, boundary disputes, etc.
Reviewing probate estates to ensure that the property passed through the estate and no unknown heirs could have an interest in the property.
Examining the real estate taxes to ensure that all taxes are paid in full.
Reviewing any restrictive covenants that could impact the owner's use of the property.
Examining zoning ordinances for land use restrictions.
A thorough search of the public records is required to protect the purchaser. If there is a title defect, the purchaser has the option of voiding the real estate contract. However, in most cases, when a title problem arises, the real estate attorney works to correct the title defect so that the seller can do a simple title transfer free and clear of encumbrances and problems to the buyer.
Write Title Insurance Policies
Some real estate attorneys can also write title insurance policies as agents for a title insurance company. Title insurance companies offer insurance that covers title defects and problems. The fee for title insurance is usually based on the sale price of the property or the mortgage loan amount. Before an attorney or title insurance agent can issue a title insurance policy, a title search must be completed.
Mortgage lenders typically require borrowers to pay for a title insurance policy the covers the mortgage company. If a problem arises that impacts the lender's interest in the property, the title insurance company may be required to pay the mortgage lien.
An owner's policy protects the property owner from various title defects and problems. Most title insurance policies contain exclusions and exceptions that the policy does not cover. It is important to discuss title insurance with an experienced real estate lawyer before a real estate closing.
An owner needs to understand what the title insurance policy covers and what is not covered. Discussing the exceptions can be helpful because those exceptions are usually issues revealed by a title search, such as easements, encroachments, rights-of-ways, survey problems, and liens that might not have been canceled of record.
Prepare Real Estate Closing Documents
Many real estate attorneys handle real estate closings. In a basic real estate closing, there could be dozens of documents. Examples of documents used in a real estate closing include, but are not limited to:
Deed
Closing Statement (HUD-1 Disclosure Statement)
Seller's Affidavit
Flood Zone Statement
Name Affidavit
Mortgage Loan Documents
Occupancy Affidavit
Correction Statement and Agreement
Title Policy Documents
Real Estate Tax Affidavit
Affidavit of Title
Proof of Homeowner's Insurance
Bill of Sale for Personal Property
Notice of Right to Cancel
Initial Escrow Statement
Property Inspection Documents
Termite Letter
The documents in a closing vary depending on state laws and the type of real estate transaction. The parties to a real estate transaction should receive and keep copies of all documents from the real estate closing. Owners should retain the documents for as long as they own the property.
Because issues can arise even after a property is sold, it is wise to keep copies of real estate closing documents for at least seven years. However, some real estate attorneys might advise keeping the documents longer. Transferring closing documents to digital copies can make storing and retaining the documents easier.
Handle Real Estate Disputes and Litigation
Real estate disputes are common. Many disputes regarding a real estate deal with the purchase contract or sales contract often involve a dispute between a landlord and a tenant. Those issues are generally negotiated and settled without litigation. However, some disputes cannot be settled through negotiation. Real estate attorneys who handle litigation matters are experienced trial lawyers who understand real estate law, in addition to contract law and trial procedures.
Represent Parties in Foreclosure Actions
When a borrower does not pay the required mortgage payments to a lender, the lender can foreclose on the mortgage. Some states require that the lender file a foreclosure lawsuit in court to request that the court sell the property to satisfy the mortgage lien. These types of foreclosures are called judicial foreclosures.
Other states permit non-judicial foreclosures. In a non-judicial foreclosure, the lender follows a specific procedure to sell the property or have the property sold by the country sheriff or clerk of court at an auction. Non-judicial foreclosures do not require the filing of a lawsuit or a court hearing for the property to be sold to satisfy the mortgage.
Handle Zoning and Land Use Issues
Each county and city have specific zoning ordinances that govern land use. For example, some property may be zoned for single-family dwellings while other property may be zoned to allow duplexes and apartments. Property may be zoned for commercial use only, or the property could have a mixed-use zoning ordinance.
In some cases, a property owner or prospective buyer may want to change how the land is used. The party must follow the laws in the county or city where the property lies to file a petition to change the zoning ordinance governing the property. This situation frequently occurs when developers want to build commercial buildings on property that was previously zoned for residential homes.
A real estate attorney can help the property owner petition for changes in zoning ordinances. Attorneys may also represent nearby property owners as they fight to prevent the property from being used for a specific purpose. Zoning disputes often arise when residential homeowners fight to keep a developer from constructing commercial buildings near their homes.
File Quiet Title Actions
During a title search, a real estate attorney may discover that there is a defect in the title. An heir to an estate may not have transferred his interest to the new owner, or a deed may have been executed incorrectly. There could be an encroachment or an easement that impairs the owner's use of the land.
If an attorney cannot resolve the matter by correcting the title in the public records, the lawyer may need to file a quiet title action. A quiet title action is a lawsuit that names all the parties that might have an interest in the property. It places the parties on notice that they must respond to the lawsuit and argue their claims or their rights might be voided by the courts.
Quiet title actions can be expensive and time-consuming. The parties to the lawsuit may not be willing to give up their alleged rights to the property. For that reason, it is always best to hire a real estate lawyer to conduct a comprehensive title examination before purchasing the property and purchase title insurance to protect your investment in case a title problem arises in the future.
Draft and Review Leases and Subleases
Real estate attorneys also assist landlords in drafting leases and subleases for residential property and commercial property. Both parties to the lease agreement should consult with separate attorneys before signing the agreement. A lease agreement is a valid contract. If either party breaks the lease, the party may be sued and could be liable for paying substantial damages to the other party.
Construction Loans and Contracts
Construction loans and contracts can be much more complicated than a residential loan and contract. A real estate attorney may represent the builder, property owner, or lender. Construction contracts usually have terms and conditions that you do not need in a typical sales agreement or purchase agreement for property that is already improved.
Common terms in a construction contract include, but are not limited to:
Responsibilities of all parties.
The scheduled dates for completion of certain phases of the construction.
Requirements for loan disbursements.
Itemized allowance items and line item costs.
Provisions for changes and modifications to the construction plans.
Requirements for extensions of the contract.
Identification of all subcontracts and other parties involved in the project.
Information regarding insurance, materials, contingencies, correction of defects, litigation, tax liability, hazardous materials, maintenance, liens, possession, and other issues related to the construction.
A real estate attorney can assist in the negotiation and drafting of the construction contract and handle the closing of the construction loan. Four common types of construction contracts include unit pricing contracts, cost plus contracts, lump sum/fixed price contracts, and time & materials contracts.
Handle Adverse Possession Claims
Adverse possession is a legal theory that allows a party who possesses a home or land for a specific period to claim legal ownership of the property. The specific requirements for adverse possession vary by state. In most cases, adverse possession must involve:
Continuous possession by the party;
Hostile, meaning that the possession interferes with the property owner's rights;
Open possession, meaning that the party is not trying to conceal the possession;
The party does not share control of the property so that the possession is exclusive; and,
The party actually possesses or uses the property.
Adverse possession claims generally involve a neighboring property owner using a portion of the property for a driveway or right-of-way without making the easement legal. It may involve a fence or building encroachment that has been in place for many years. Unless the parties have a dispute, the adverse possession claim generally becomes an issue when the property owner prepares to sell the property, and a title search reveals that someone else is using part of the property without a legal right to do so.
Handle Rights-of-Way and Easements
A property owner can grant a party a right-of-way over a portion of the property. The right-of-way only allows the party to travel across the property within the right-of-way. For example, a property owner might grant a neighbor the right-of-way to use part of the property as access to the neighbor's land.
An easement gives another party the right to use a portion of the property for a specific purpose. Utility companies generally have easements crossing property to install utility lines or equipment. An easement may be restricted to the current owner, or the easement may attach to the land and become part of any future sale of the property.
Prepare and Review Restrictive Covenants
Homeowner's associations and condominiums usually have restrictive covenants. The restrictions require owners to follow specific rules for the use of the property. For example, restrictive covenants could prevent a homeowner from parking a boat in the back yard or installing an aboveground pool. Some restrictive covenants may prevent a homeowner from having a home office on the premises or include architectural guidelines regarding color choices or additions to the home.
Homeowners should carefully review restrictive covenants before purchasing the property. A real estate attorney can explain the terms of the restrictive covenants and how the covenants might impact the homeowner's use of the land and decisions regarding their home.
What is the Difference Between a Real Estate Agent and Real Estate Attorney?
A real estate agent represents sellers or buyers in a real estate transaction. Real estate agents are licensed professionals. They can list properties for sale and work with buyers and purchasers to negotiate a real estate contract. Listing agents work with sellers and buyers agents work with purchasers. A real estate agent cannot represent both parties in a real estate transaction.
The real estate agent guides the client through the real estate process, including negotiating contracts, drafting contracts, applying for a loan, choosing a real estate attorney, and preparing for the real estate closing. The real estate agent's job is to help a client take care of all steps necessary to buy or sell property.
A real estate attorney can perform many of the same functions, except for the functions that require a real estate license. However, a real estate lawyer can do one important thing that a real estate agent cannot do — provide legal advice. A real estate agent may understand real estate law, but the agent is prohibited from offering legal advice unless the real estate agent is also a lawyer.
Why Do You Need a Real Estate Attorney?
In most cases, it is wise to hire a real estate attorney, even if you hired a real estate agent. As discussed above, real estate agents cannot give you legal advice if a legal question arises during the transaction. Therefore, you need someone who is protecting your best interests and offering sound legal advice throughout the process.
Investments in real estate are usually the most significant investments that many people make during their lifetime. Because you are investing a large sum of money in real estate, you want to ensure that your investment is protected. A real estate lawyer can help ensure that all due diligence is conducted to protect your investment.
Also, the agreements and contracts you sign as part of a real estate transaction are binding in court. You need to ensure that the terms and conditions of the contract and the agreement do not place you at risk of litigation, loss, or damage. Your lawyer carefully reviews the contracts to ensure the terms are favorable to you.
How to Find a Real Estate Attorney
You can search online for a "real estate attorney near me" or "real estate attorney free consultation" to find a lawyer, but it is best to ask for references and recommendations. Friends, family members, realtors, and bankers can recommend real estate attorneys in your area. Even with recommendations, make sure that you research the lawyer and read reviews.
You want to choose an attorney with experience in the specific real estate matter. For example, if you have an issue with a tax matter, search for a real estate tax attorney.
On the other hand, if you have a property dispute, you might want to search for a real estate litigation attorney. If you cannot be at a real estate closing, hire a real estate closing attorney that is familiar with creating a power of attorney for real estate matters.
How Much Does a Real Estate Attorney Cost?
Real estate attorneys charge different fees for services. Some real estate lawyers charge flat fees, while some lawyers charge by the hour. Before hiring a real estate attorney, make sure that you discuss the fees for each service and payment arrangements.
When to Hire a Real Estate Attorney?
If you have any real estate matters listed above, it is a wise decision to consult a real estate lawyer for legal advice. Real estate matters involve complicated laws, including real property rights, contract laws, eminent domain, adverse possession, and other legal areas. Without legal representation, your real estate issue could turn into a financial disaster.
Should I Hire a Real Estate Attorney?
Buying real estate is arguably one of the biggest purchases you'll make in your lifetime. Real estate transactions not only involve a lot of time and paperwork; they also require specialized knowledge—especially if any disputes are involved in the transaction. It's important to protect yourself and your real estate assets from liability, and consulting with a real estate attorney is one of the best ways to do so.
3 Steps to Create an Invisible Investor Strategy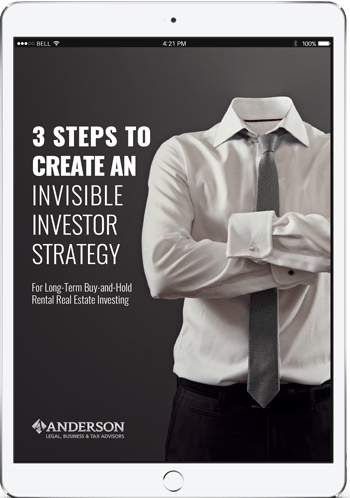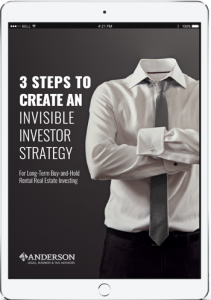 The greatest mistake that people make when it comes to asset protection for real estate is not understanding the risks that are waiting out there for them. This eBook reveals the structure you should follow to ensure your hard earned money is protected from frivolous lawsuits and costly tax mistakes.