MISSION
Preserve, Protect, Prosper
VISION
To Provide World Class Service at a Level Unseen in the Law and Accounting Industry
VALUES
Integrity | Resilient | Driven | Innovative | Conscientious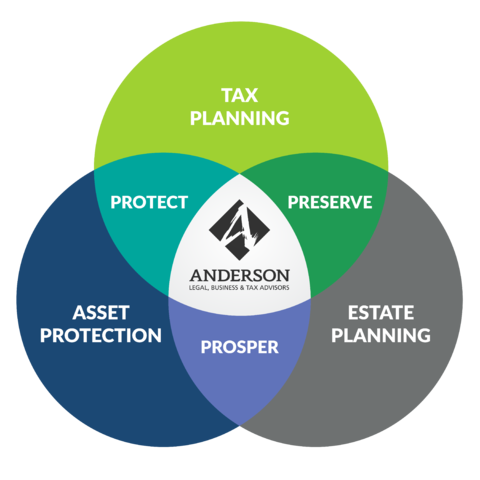 What makes Anderson unique?
Anderson Advisors takes a unique approach to asset protection. Unlike traditional groups, we avoid hourly fees and instead work on a fee-based structure in which the costs of creating and implementing a plan are inclusive. In other words, we want our clients to take an active role in the implementation of their plan.
What can I expect from Anderson?
We believe it is in everyone's best interest to take an honest look at their situation. Therefore, when you contact us, you can expect your advisor to ask a series of questions to fully understand your current business situation. Together, we will work towards a common goal: Preserve, Protect & Prosper!
Why choose Anderson?
Anderson Advisors is the nation's premier entity provider. Our biggest competitors in the field of entity planning are primarily non-legal service providers. Because of this, they do not have the same ethical standards that we at Anderson Advisors have. We do not offer false hope or false promises. We offer commonsense legal solutions to the most common obstacles.
Who is Anderson?
Anderson Advisors is a Seattle- and Las Vegas-based business planning and consulting firm with a focus on providing high-quality services and resources to real estate investors, stock traders, solopreneurs and business owners.
Why Trust Anderson For Your Business Structuring Needs?
Comprehensive Assessment Tailored to You
The wrong structure for your business now could mean more taxes and liability later. That's where Anderson is different. We take a comprehensive look at your situation, not only from a legal asset protection perspective, but also from tax savings and financial planning perspectives.
Experience You Can Trust
Unlike other law firms, our consultants consist of attorneys and planners who travel nationwide to speak at conferences and seminars on subject matters concerning asset protection, taxes, and business planning. Since 1999, we have taught tens of thousands of people how to make better business decisions and properly prepare to meet their goals.


ALWAYS 100%
Anderson Advisors is dedicated to providing 100% customer satisfaction. Our mission is to PRESERVE, PROTECT, PROSPER. We strive to ensure the best possible experience for every client.
PRESERVE

100%

100%

PROSPER

100%

100%

PROTECT

100%

100%
Anderson Advisors Partners
Very easy to work with and they handled everything. I would definitely recommend them for all your needs.
They've set up numerous entities for me, have always been available to answer my questions and file all of my taxes, business and personal.
Absolutely the best business, tax, trust, and asset protection attorneys in the country with reasonable fees. Caring, accurate, and knowledgeable advice for any business investor – real estate, taxes, LLCs, and trusts.
Contact Us For Additional Services.
Monday-Friday 8am-5pm PT