Why Clients Love Anderson
Anderson Advisors has had the privilege of serving and working with its asset protection clients for almost 30 years.
Whether you are an aspiring real estate investor just starting your journey or moving onto building generational wealth for your family, Anderson is here for you.
For potential clients, our professional advisors discuss your business challenges and what's most important to you to create your customized asset protection blueprint in a complimentary 1:1 asset protection strategy session.
When you become a Platinum client you'll experience the Anderson System which includes unlimited attorney strategy sessions and office hours, unlimited questions for our tax team, extensive access to live and web-based education and so much more.
We look forward to getting to know you and the potential to grow and protect your business together.
"Anderson saved us so much money in several areas and we couldn't have done it without them."
Dan and Catherine S.
Clients Since: August 2003
We started working with Clint Coons in 2003 when we were putting the pieces together and to scale a product we recently developed. We were taking it to market and needed support in a number of different areas.
Something that's important to us is a one-stop-shop for professional services. For us to be able to blend bookkeeping, tax accounting, and other areas all in one place was very comforting.
One of the things we really liked about Anderson was we had a real trust in them.
Besides being down to earth, friendly people, the Anderson team is extremely knowledgeable.
More importantly, their sense of urgency with any request we had – they were just on top of everything. That means the world to us because those things, as a small business are extremely important.
There is no question with the comfort and stress free process they provide. They saved us so much money in areas I know we otherwise couldn't have, without them.
"With real estate investing … You start by learning, then you do, then you learn a little more, then you do, and you're closer to your goal."
Patrick A.
Client Since: October 2020
I was never exposed to financial literacy early in life. Most people I knew were not taught about financial education or how debt works. I thought everyone lived paycheck to paycheck and they had trouble making rent each month.
When I joined the military, I learned real estate isn't just something you rent out to live in and that even regular people could leverage houses that other people rented to make passive income.
My dad worked hard with his hands his whole life, but he never really got ahead. That was one of the reasons I joined the military. To develop a career path, achieve financial stability and not have to worry about the daily grind.
That's where my drive for education comes from. Not only can I continue to provide for my family but also pass on that education to my kids so they can be successful.
Every stage of my life has had a different motivation for taking the next step. Of all the people I've talked to, everyone has a reason for why they want to do better.
You need to find that reason and use that to motivate you to achieve your goals.
"Anderson taught us how to leave generational wealth to our family."
Rick & Mary F.
Clients Since: May 2020
Joining Anderson and being able to learn about Asset Protection put us in a position to be able to receive additional knowledge in real estate investing.
This gave us the encouragement and confidence to invest in out of state real estate opportunities, which was previously unknown territory before we were exposed to Anderson.
That's what brought our investing and our knowledge to a whole new level. It's been really important for us to learn the tools to be able to leave generational wealth for our family – for our children's children. We want them to know who we are. That's why our children also joined us at the Anderson retreat to learn the tools to be able to carry it on for generations.
"Before Anderson I didn't know a lot about tax strategies BUT that's what made me so successful."
Jill M.
Client Since: November 2020
I was looking for long term passive cash flow.
I originally got into real estate investing and became an Anderson client. They educated me. I knew the retail real estate part, but I didn't know a lot about real estate investing – or the tax implications or tax strategies.
Anderson filled that in for me and that's what is making me so successful.
"Anderson provides a 360 service and education. We haven't come across anyone that takes your investment game up two or three levels – their education is amazing!"
Roy & Jume P.
Clients Since: August 2020
Anderson provides 360′ service and education. I haven't come across any other companies that help bring everything we have and take it to the next two or three levels.
They help us secure our assets from structuring– the education is amazing, and the attorney hours as well. I was able to call them when I was in a bind converting a holding company from Wyoming to Texas and I was able to retain our veil coverage.
Anderson helped me get my entities set up and closed on time.
"I was paying too much in taxes and I didn't know where my next deal was coming from."
Jason C.
Client Since: November 2019
I was paying way too much in taxes.
I had started a company and wasn't as knowledgeable as I should have been surrounding how to mitigate taxes. During my first few years in business I felt like I was paying taxes on money I never saw.
I finally realized that I needed to get myself financially educated and that's where real freedom comes from. I don't have to worry about where my next meal is coming from.
Now, I don't have to worry about where my next deal is coming from.
"We had one goal and we reached it: Our goal working with Anderson was to get out of debt and build residual income."
Geri & David D.
Clients Since: November 2019
Our goal when we first started working with Anderson was to get out of debt and start building residual income.
In the beginning it felt like we were moving nowhere. It was a slow ride. But then, the more we jumped in, the deeper we got into the pool and learned more of the tools and were able to leverage what we learned. It's been quite phenomenal for us to work through it.
The nicest part about working with Anderson is being debt free, not having a mortgage, not having any bills to pay. We have many credit cards, but no balance on any of them now. That's awesome!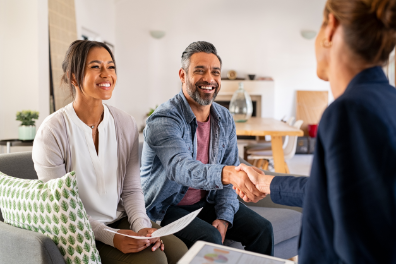 Looking for Asset Protection for Your Investments?
If you own real estate investment properties and would like to schedule your complimentary 1:1 asset protection strategy session, click below to schedule your call.