Updated September 30, 2021
Real estate investors' associations or REIAs are groups for real estate professionals and those in related fields to get together and share ideas or pool resources to make investments. While there are many REIAs located in California, the Santa Barbara Real Estate Investors' Association (SBREIA) may be the right REIA for you.
4 Steps for Joining the Santa Barbara Real Estate Investors' Association
Consider the Options
Contact Santa Barbara REIA
Sign Up for Membership
Attend a Meeting
Located almost 100 miles from Los Angeles along California's beautiful coast, Santa Barbara can be a great place to invest in real estate or meet with others in the industry. Joining real estate investors' associations (REIAs) is a great way for anyone to start networking with professionals in various fields. Many REIAs offer educational material, classes, tours, and more. When a local REIA holds a meeting, they include time for networking before and after the presentation. In addition to real estate investors, many vendors, lenders, bankers, brokers, loan underwriters, and other professionals like certified public accountants may attend, as well.
Joining a local REIA or the National REIA can provide many benefits, including discounts at local hardware stores, like Home Depot. Besides networking and education, the National REIA promotes the industry and can lobby on behalf of real estate professionals.
1. Consider the Options
There are many real estate investors' associations in California. You are not limited to just one REIA in a real estate market, but can join multiple REIAs. Usually, these investor associations tend to hold meetings on different days of the week, which allows interested parties to attend multiple meetings and events each month. New investors may benefit greatly from attending one of the many quality REIAs. Los Angeles boasts several real estate investors' associations in the area, such as LA REIA, LA South REIA, and Prosperity through Real Estate. These three REIAs, along with the Santa Barbara REIA, are affiliated with the National REIA.
Many real estate investors' associations are not affiliated with the National REIA, so be careful and research each club carefully before joining. Some unaffiliated REIAs focus more on making money off their members rather than providing benefits. Speakers who present during meetings can also have ulterior motives aimed at selling products to members. Many REIAs take a portion of the speaker's sales for hosting the meeting. Before choosing a REIA, be sure to perform due diligence, check reviews, and even attend a meeting.
Many REIAs offer discounted or free attendance for first-time guests. The Santa Barbara Real Estate Investors' Association or SBREIA holds its meetings in two general locations: one in Santa Barbara and another located 13 miles west in Goleta. There are not many REIAs north of these two within easy driving distance.
2. Contact Santa Barbara REIA
There are many ways to contact the Santa Barbara real estate investors' association. There are links to social media platforms on the SBREIA website for Facebook, LinkedIn, and Twitter. You can also reach the SBREIA through the contact form on their website.
The owner and operator is Dan Ringwald, who can be reached via phone at 805-242-3004 or 805-680-2440. Mr. Ringwald is also the president of NH Big Inc. (National Home Buyers Investors' Group Inc.), a wholesale real estate company that purchases and sells property. SBREIA's connection to NH Big Inc. gives real estate investors more options and access to a national network of properties.
Meetings are usually held at the Courtyard Marriott at 401 Storke Rd in Goleta, CA. The goal of the SBREIA is to save members money while providing quality services and education. For larger events, some meetings take place in Santa Barbara at the Hilton Santa Barbara Beachfront Resort.
3. Sign Up for Membership
One great thing about the Santa Barbara Real Estate Investors' Association is that there is no charge to become a member. Unlike most REIAs, SBREIA focuses on lowering costs for members under the belief that you don't need to go bankrupt to learn about real estate investing. This helps those who wish to join multiple REIAs around the state.
The SBREIA presents itself as a local, national, and global real estate investors' club. You can access their educational material and network from anywhere in the world. The owner, Dan Ringwald, also provides videos of past meetings on YouTube at no charge.
To sign up, simply visit the SBREIA website and complete the membership form. While basic membership is free, there are other membership options that include a fee. The Santa Barbara REIA is affiliated with the National REIA, so you must purchase a membership with the National REIA to claim national benefits. National REIA membership is $200. This is one of the lowest membership fees for National REIA membership in the nation. You can purchase an advanced pass to all the SBREIA meetings for the year at $100. Combining these two offers can save you $50 annually. For more information on membership options and packages, contact Dan Ringwald by calling 805-242-3004.
4. Attend a Meeting
One of the best ways to research real estate investors' associations (REIAs) is to attend meetings. While membership is free at the SBREIA, you may have to pay to attend certain meetings. The Santa Barbara REIA holds several meetings a year, mostly on Saturdays, which range from small events to large expos. Generally, first-time attendees are allowed to come to one meeting for free. After this, you can pay $10 in advance online, while paying with cash at the door costs $20. Meetings tend to range from 10 to 30 attendees, with twice that expected in the near future. With more than 700 total members, this is one of the largest REIA networks.
Meetings are managed through Meetup, where members can register to attend and also get up-to-date information on current meeting status and locations. Meeting lengths vary—the last meeting held in October ran for almost four hours. Presentations at meetings can cover a wide range of real estate subjects. Topics include real estate transactions, single-family homes, multifamily property, property management, real estate taxes, and estate planning.
One nice feature provided by the Santa Barbara REIA is that videos of past meetings and speakers are uploaded to YouTube for free access. This is a great way to get a sense of how the REIA operates. While the SBREIA makes attempts to verify the authenticity of speakers, it is important for everyone to do their own due diligence before attending a meeting. Some speakers simply want to sell products and services to members.
SBREIA meetings are not just for investors. Many other professionals in the real estate industry and related fields may attend in search of leads or information. Real estate agents, real estate brokers, lenders, mortgage agents, and vendors from different companies frequently attend meetings. Vendors interested in setting up a table at a meeting can pay $50 in advance.
Benefits of Joining the Santa Barbara Real Estate Investors' Association
There are many benefits to joining the Santa Barbara Real Estate Investors' Association. In addition to being free of charge, SBREIA connects you to local, national, and global investors and professionals. This network of investors can help newcomers and provide mentoring to guide your progress. The financial experience and asset management of other members can be an untapped resource for new investors.
REIAs often provide educational material on subjects related to real estate investing and management. Investors can find training material on the SB REIA website and view the videos of past meetings. Commercial real estate agents or those partners looking to invest in commercial spaces can also learn more about investment properties.
The SBREIA also provides many benefits in the form of discounts for local and national businesses. Property owners looking to buy or sell in the Santa Barbara area can benefit from the partnership between SBREIA and NH Big Inc., which expands the local real estate market to a national association of real estate agents. Members of the SBREIA can take discounts at Lowe's and Sears as well as several other local businesses. Affiliation with the National REIA can also bring even more benefits, such as discounts at Home Depot and access to an even larger investor pool.
Networking provides the opportunity to meet others with similar interests. Real estate investors' associations allow investors to pool their resources in order to make larger real estate purchases, such as apartment complexes or skyscrapers. They also allow investors to take advantage of the skills and knowledge of other investors and real estate agents in the form of mentorship, support, or partnership.
Santa Barbara Real Estate Investors' Association Annual Events
The Santa Barbara Real Estate Investors' Association holds several meetings each year, including an annual SBREIA Expo. The 2019 Expo held in August was located at the Hilton Santa Barbara Beachfront Resort.
This investors' conference was hosted by Realty411, a California real estate investment magazine. Speakers covered a range of topics, including information on capital options. Annual events and meetings provide a wealth of information on investment properties, multifamily homes, commercial real estate, property management, rental property tax deductions, and more.
Santa Barbara REIA
The Santa Barbara Real Estate Investors' Association (SBREIA) can be a great place to meet others in the industry and learn more about real estate investing and related subjects. Networking is one of the best reasons to join your local REIA and attending meetings. You could meet others who want to partner with you or can help you in some way, such as providing support or mentorship. Investors can also pool resources to take advantage of larger deals and business ventures, like apartment complexes.
Offering free membership, the SBREIA is one of the largest networks of investors in California. Members can take advantage of a range of benefits, including free training and educational material and discounts at a variety of national businesses. Whether you are a new investor or old hand at real estate investing, there is something for everyone at the SBREIA. You can try it for free before deciding on advanced membership options.
By joining the SBREIA and networking with real estate professionals, you could land your next real estate investment opportunity. Before investing or conducting any transactions with others, it's always a good idea to have a financial expert review the deal for your benefit. Contact Anderson Advisors today for assistance with estate planning, asset management, and minimizing your tax liability.
Bonus Video
3 Steps to Create an Invisible Investor Strategy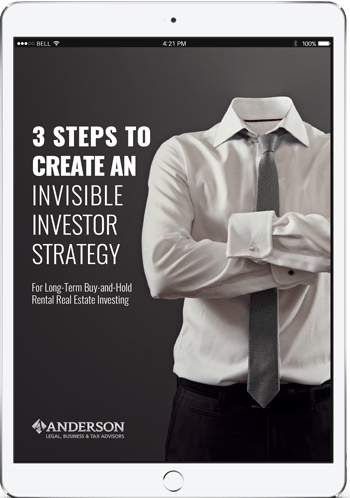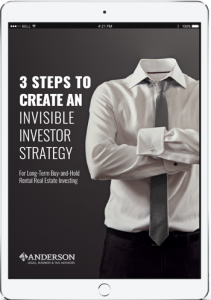 The greatest mistake that people make when it comes to asset protection for real estate is not understanding the risks that are waiting out there for them. This eBook reveals the structure you should follow to ensure your hard earned money is protected from frivolous lawsuits and costly tax mistakes.