If you are involved in real estate investing, you may have considered the idea of an Airbnb rental.
Unfortunately, purchasing a large vacation home is not always an option, especially in popular tourist destinations with lots of competition. But what if there was a way to utilize the property you have and stand out from the competition? All it takes is a creative hospitality offering.
How to Start a Tiny House Rental Business
Research Zoning and Permits
Set Up an LLC
Set Up a Land Trust
Purchase Insurance
Market Your Rental
Determine Property Management Procedures
Airbnb is one of several peer-to-peer (P2P) platforms that allow property owners to connect with interested short-term tenants. Typically for those who are traveling for pleasure or business and need a place to stay overnight. These guests are choosing to forego the traditional hotel experience to rent out a vacant home instead.
Focusing on Airbnb, there are six million properties listed in over 100,000 cities. As you can imagine, this means lots of competition for Airbnb owners. Some Airbnb owners try to stand out from the competition by creating themed accommodations. Then there are others that will work with interior designers to create an especially attractive space. But here we discuss one strategy to help separate yourself from competitors. One of the latest trends in home ownership is the tiny house rental business.
Tax & Asset Protection Workshop
Learn about Real Estate & Asset Protection at our next
FREE LIVE STREAM
What is a Tiny House Rental Business?
A tiny house is often regarded as a dwelling that is less than 600 square feet. Most tiny homes are usually trailers on wheels, and are not secured to the ground with a foundation.
If you're wondering just how big 600 square feet is, it's probably the size of your living room. A tiny home has all the amenities of a regular home, just on a smaller scale. They typically accomplish this by implementing creative, space-saving features. For example, A bed might fold away to become a couch. A dining room table might slide out of a kitchen counter. Or a staircase might double as a bookshelf or a dresser.
Tiny homes are regarded as compact, cute, and often bohemian. There is usually an intersectionality with the DIY space, as many tiny homes have been converted by their owners from old campers, shipping containers, and even school buses—while others are stunning examples of woodsy craftsmanship.
Are Tiny Homes a Good Rental Investment?
A quick search on social media using hashtags like #tinyhome will show you that the tiny home space is gaining popularity. But are tiny homes more than just a hip trend? Is there a financial opportunity for real estate investors? The answer would seem to be yes.
Tiny homes have consumer appeal because most travelers are looking for unique experiences off the beaten path. Since most tiny homes have all the normal amenities like appliances and a bathroom. More important they afford travelers the opportunity to do some "glamping" without giving up luxuries they're used to.
Tiny homes also have a smaller footprint. This means that more space can be dedicated to outdoor attractions like a patio, pool, garden, or natural scenery. A guest will certainly enjoy amenities like a fire pit or private deck where they can sip on wine or roast s'mores and watch the sunset.
In addition to their marketing appeal, most tiny home rentals are less costly to set up. The average tiny home will cost anywhere from $30,000 to $60,000 to build. If you're a do-it-yourself person, you can hire a contractor or a handyman in your network and it might cost less than that.
The downside is that securing traditional financing is going to be a lot more difficult. This is because banks and traditional lenders are not going to view an unsecured home on wheels as a good investment with minimal risk. However, almost 70 percent of tiny homeowners don't have a mortgage, so traditional financing may not even be necessary.
How to Start a Tiny House Rental Business
Before you start brainstorming tiny house ideas, there are a few things you'll want to do to protect your investment, including:
1. Research Zoning and Permits
If you have a particular plot of land in mind for your tiny home, you are going to want to make sure you can actually put a tiny home there. Local zoning ordinances may require you to have homes over a certain square footage attached to the ground. There may also be certain requirements in regards to plumbing and electricity.
If you own property with larger acreage you may envision a small bungalow colony, like a tiny house village. Before starting, you'll want to check and see if this is possible and if it requires any type of special permits.
One thing you will want to check on is the rules and regulations around how your ownership is listed. Remember, to protect yourself you want to have your tiny house rental business be an LLC or corporation. Learning how to hide assets from public record can help you avoid potential complications once your rental is up and running.
2. Set Up an LLC
If you don't already have your real estate investments set up as a separate legal entity, this is the time to do so. Even if you've already used an LLC for other properties, you might consider creating a separate LLC for your tiny house rental.
In fact, as a general rule, it's a great idea to compartmentalize all your properties into separate legal entities. This limits the liability of a potential plaintiff suing to recover damages from your greater portfolio. An LLC is a great entity structure for property owners because it can help separate you and your personal assets from the business.
3. Set Up a Land Trust
You might also consider setting up a land trust as an extra measure of security. In addition to the reduction of legal liability afforded by the LLC, a land trust can help obscure personal ownership. This can add an additional layer of protection for avoiding the incursion of plaintiffs against your personal assets.
A land trust can also be a great way to assist in transferring your tiny home business as an inheritance while avoiding onerous transfer and inheritance taxes.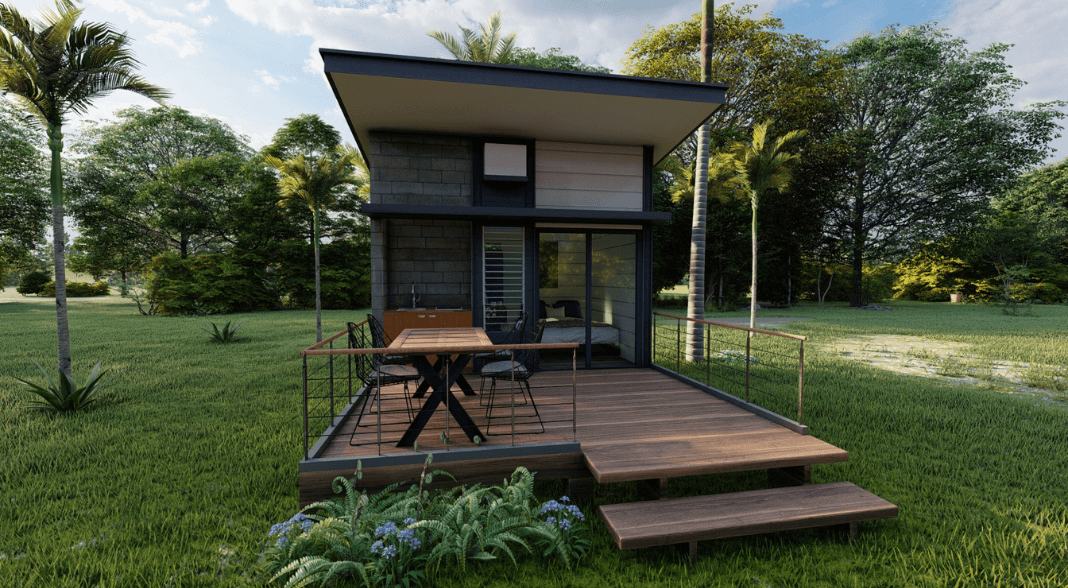 4. Purchase Insurance
Next, you'll want to buy insurance to protect your Airbnb investment. Remember that when shopping for insurance, you need to make an honest presentation to the insurer of what the insured asset will be used for. While you can put policies in place to mitigate property damage, offering a property as a rental to unknown parties does come with risks. You never know if someone is going to throw a large party on your property or even try to roll the tiny home into a lake for some viral video content. Be prepared and purchase the right insurance.
Keep in mind that if your tiny home is not attached to the ground, you're not going to be getting the same type of insurance policy that you would get for an actual home with a foundation. You may instead be getting some type of policy that covers recreational vehicles or trailers. But this might not be enough if there is acreage surrounding the tiny home that will be part of the tiny home rental experience. For instance, if you will have a pool or other landscaping features that can create the possibility for liability, you might want a secondary policy to cover the property as well.
5. Market Your Rental
Your tiny home could be an incredible handcrafted pine cottage overlooking azure mountain lakes, replete with a bubbling hot tub set between natural rocks and fountains. But if nobody knows it exists, nobody is going to book it. The same is true for real estate in general: even if you know how to buy a rental property, it won't produce any cash flow if you don't get a tenant in it.
Listing your tiny home on Airbnb is a great start, but you will still need to market it in other ways. Your best bet is social media. If you can reach out to an influencer and offer them a free night's stay, you can bet they'll post pictures and videos on their feeds, generating more business for your rental.
The tiny home vacation rental market is most likely going to be local, so if, for instance, your tiny home is in North Carolina, you're going to want to focus your marketing efforts on that area. Tiny homes are often suited for travelers looking for a small mini-vacation, one they can easily drive to.
6. Determine Property Management Procedures
You will need policies in place to deal with the practical components of renting out a tiny home. This will include, for instance, check-in and check-out procedures, like where to pick up or leave keys (such as a lock box on site). It will also include policies about what guests can and can't do, and if they need to be involved in any cleanup.
You will most likely also want to have some sort of procedure for cleaning and turning over the property between guests. If your tiny home rental isn't close to your personal residence, you will want to solicit the services of a property management company. A good property manager will keep their eye on the property, and let you know if any routine maintenance is needed.
Make Your Tiny House Rental Dreams a Reality
Tiny house rentals are definitely a unique real estate investment opportunity, especially if you are into the short-term rental market.
From the Hudson Valley of New York to the foothills of Los Angeles, tiny house living is a fad that is taking the housing and hospitality industry by storm. Though the tiny house rental business movement is a relatively new investment space, the idea of tiny living has certainly shown to have market appeal, and it may be your opportunity to get in on the front wave of the latest trend.
There are lots of resources in the tiny house community for ideas, tips, and lessons learned from experience. And because the space is low cost and has low competition, it can be a fun opportunity that may even lead to new experiences. So, whether you're interested in building a small glass house in New Zealand, a tiny cabin in the hill country of New Hampshire, or a refurbished school bus in Portland overlooking Mt Hood, now might be the perfect time to invest in that creative real estate idea.
But before you get too caught up in planning your dream tiny house rental, we encourage you to meet with one of our business structuring experts to create a free entity formation blueprint. We've helped thousands of real estate investors make the right decision about which business entity to form, and we look forward to helping you make your tiny house rental business dreams a reality!
Free Strategy Session with an Anderson Advisor
Receive a detailed risk assessment to assist in lowering problem areas that could wipe out all of your assets with one wrong move. Speak with an Anderson Professional Advisor to get your FREE Strategy Session. Limited-Time offer: FREE (a $750 value.)