"Most of the people who are paid to give advice to real estate investors are selling products… but don't invest in real estate themselves."
Sure, anyone can make some cash owning a property or two.
But to build lasting wealth, the kind that keeps money coming in, the kind where you don't have to worry about the markets or losing your job, you have to change the very way you look at and engage with real estate.
Drawing from his decades of experience building a thriving real estate portfolio, Clint Coons, Esq. wrote Next Level Real Estate Asset Protection to show exactly what it takes to kickstart a career in real estate investing and how to use it to start growing generational wealth.
Next Level Real Estate Asset Protection
Learn what it takes to become an active real estate investor from the business planning side.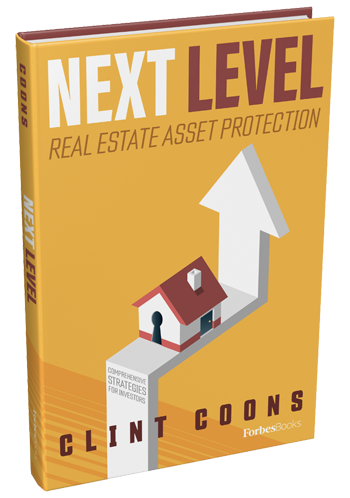 Coons takes readers beyond the mindset of a casual real estate investor to demonstrate that real estate investing is a true business. As both an investor and an attorney himself, he knows first hand what can happen to a person entering the real estate business without a solid legal foundation.
Next Level Real Estate Protection gives readers a crash course on the business side of investing. Everything from asset protection, owning via entities, working with lenders, to long-term activities for developing multiple streams of passive income. Above all, Coons wants to teach readers how to eliminate fear so they can make the right bold moves to supercharge their portfolios.
Coons' advice roots itself in the insights he's uncovered while working with ultra-wealthy real estate investors who manage their portfolios like a business.
For Coons, this shift made all the difference – and now he's sharing the exact methods and tactics that he used to build his empire, so you can do the same.
Next Level Real Estate Asset Protection: Comprehensive Strategies for Investors by Clint Coons, is now available.
The book is published with ForbesBooks, and has already a #1 new release available on Amazon today.