Updated October 3, 2021
It's often said that success in business doesn't just come from what you know, but who you know. While the idea of networking is important in every business, it's especially important in real estate. The San Diego Creative Investors Association provides many benefits and is easy to join.
Steps for Joining the San Diego Creative Investors Association
Select Your Membership Type
Complete an Application
Pay Your Membership Fee
Enjoy the Benefits
The San Diego Creative Investors Association REIA is a great networking opportunity for all types of people involved in real estate, no matter their experience level. Brokers, agents, lenders, and investors are united by a common goal to further their real estate education and find success, whether they are flipping homes, renting properties, financing, or looking for clients. At the same time, the SDCI Association is not just a place to connect with those you need to know. It's also an incredible resource for building your real estate education.
Joining an investment association like the San Diego Creative Investors Association is probably the best investment you could make in terms of finding success as a real estate investor, whether you want to be involved in residential real estate or commercial real estate. An investor club—a real estate investment club, specifically—is typical of a business that's built on networking.
Real estate agents have their association of realtors. Homeowners have their property owners association. Those involved in property management, hard money loans, creative financing, or investing in rental housing also benefit from finding a community in the form of a real estate investor association where they can benefit from working with other real estate professionals.
The SDCI is not just for those engaged in the real estate market full time. Even someone with a corporate career path who wants to explore the idea of owning a rental can benefit from participating in a real estate investors club. Investors can learn about everything from how to size up a patch of land to the art of the deal in terms of real estate transactions.
Select Your Membership Type
Select your membership type by going to the San Diego Creative Investors Association homepage, sdcia.com. At the top of the page, a horizontal menu should give you the option to learn about membership. Hover your mouse over the word membership and select join from the dropdown menu.
This will bring to a page with information about the great benefits of joining SDCI, along with a video introduction. Below the video, there is a menu with a few different types of membership and sponsorship opportunities. The basic membership is $80 annually.
Complete an Application
Fill out an application by selecting the membership type that you want. Enter the information required to fill out the application, including your payment information. Once you've filled this out, they send you a password that you can use to access the members-only portion of the SDIC website. Your membership will also carry certain other benefits we'll outline below.
Pay Your Membership Fee
Pay your membership fee on a recurring basis to keep enjoying the benefits of being part of the San Diego Creative Investors Association. By joining, you are automatically included in the National Real Estate Investors Association. $80 annually is a small asking price to take advantage of the discounts, classes, seminars, and networking opportunities provided to you by the SDCI.
Enjoy the Benefits
Enjoy the benefits of your membership, which include incredible discounts at useful vendors you'll probably need in the course of your business dealings, including (but not limited to) The Home Depot, 1-800-GotJunk, QuickBooks, and Constant Contact.
Benefits of Joining the San Diego Creative Investors Association REIA
Joining a Real Estate Investors Association is a great way to build your network, which is crucial in real estate. Even if you don't particularly enjoy any of the other myriad benefits of the SDCI, the networking opportunities alone are worth their weight in gold. This is your chance to find buyers, sellers, agents, lenders, and property managers—or any of the above who know someone else who can help you out by getting you closer to your goals.
The discount benefits of the SDCI are appealing to many aspiring and experienced investors. You will get volume pricing at Home Depot that has helped investors nationwide average around 10% savings on building supplies like lumber, plumbing, and electrical hardware (keep in mind that your volume orders need to be above $1,500). REIA members can also get a biannual 2% rebate by setting up an account with Home Depot, as long as they spend $5,000 every six months—which probably isn't that hard to do if you're in real estate.
For those members renting properties, Rent Perfect offers a special deal to help screen potential renters with a thorough, investigative approach—which involves identity authentication, criminal and eviction background screenings, and a credit check—for $35 per applicant, which is a small price to pay for long term peace of mind.
As anyone involved in real estate knows, you want to get an insurance policy to cover your assets. Arcana Insurance Services has partnered with the National REIA to provide members of SDCI with a simplified underwriting process that does not require photos or inspections. They offer packages for general property and liability insurance in all 50 states for vacant and occupied properties, and a Landlord Supplemental Protection (LSP) that will help insure your cash flow against delinquent rents.
Whether you're transitioning tenants or flipping homes, you'll probably need a reliable handyman to come along and clean the place out, whether that means tossing some old furniture or gutting the interior of drywall and carpets. The SDCI has partnered with 1-800-GOT-JUNK to provide its members with a 10% discount.
Many real estate investors will tell you that one of the trickiest parts of the business is finding a reliable contractor who does good quality work. BuildZoom takes the headache out of that task by pairing up investors with professional, licensed contractors in your area. They use a proprietary matching software to connect every customer with at least three contractors in the area, and REIA members will be guided through the process by a project consultant.
There are around two dozen vendors that have partnered with the National REIA—and by extension, the SDCI. These vendors pretty much cover everything you'll need to run your real estate business. When you need to rent a vehicle to check out properties in a different city, REIA members can connect with special deals offered by Budget and Avis. In terms of administrative management of your operations, Office Depot and QuickBooks also have partnered with the National REIA. There are other all-encompassing life benefits, such as a self-directed IRA from Equity Trust for only a $99 annual fee. The National REIA has worked hard to assemble a comprehensive list of vendor partners that will really save you money and further your real estate goals.
In addition to these vendor benefits and discounts, there are a lot of educational benefits offered by the San Diego Creative Investors Association. Monthly meetings will help educate, support, and motivate real estate investors no matter where they are in the process. Local and national real estate experts are invited to speak at conventions and seminars, and if you miss their presentation, you can always catch it in the members-only collection of speaker recordings. Members get access to an educational library with free checkout. There are in-depth workshops, breakout sessions, and seminars for members. Members can also present their property deals at meetings and on the website.
The overarching themes of these intangible benefits are all about education, motivation, and networking. While attending events and classes, you'll not only learn about how to grow in the real estate business but you'll also get the chance to meet like-minded people who can become important mentors and partners.
San Diego Creative Investors Association REIA Annual Events
You can take a look at upcoming events right from the homepage of the SDCI. Monthly meetings are generally held on a weeknight, from 6:00 to 9:00 PM. These meetings are a great way to meet local investors, agents, and perhaps even a lender for your next endeavor. As mentioned, members are allowed to present their current ongoing offerings and deals to the attendees.
A few times a month (often on the weekends), there are specialty classes and presentations from industry leaders, such as learning how to reduce risk, maximizing your management strategy to increase profits, and informational sessions about the impact of new laws. Some of these events will have an entry fee, but members will pay a reduced rate.
Generally, these meetings and classes are held on the weekend, which tells you that the SDCI is all about making itself accessible to working folks who are also involved in Real Estate. As mentioned, SDCI is not just for full-time investors. SDCI is all about promoting success for real estate investors whatever their level of involvement. As such, many of the meetings, events, and classes are on weekends or evenings.
Occasionally, there are special bi-annual or annual events that do not revolve around a speaker or other such presentation, but instead focus on networking, such as the Member Appreciation Breakfast and the annual Holiday Party. Far from being just a buffet spread, this is your chance to spend a few hours talking to locals in the real estate scene and building your network.
As mentioned, membership in the San Diego Creative Investors Association automatically gives your membership in the National Real Estate Investors Association. If you want to participate in these events, you might have to take a trip to the Windy City (aka Chicago) where biannual gatherings like the Annual Summer Cocktail Party and the Dealmakers Cocktail Party are held at local restaurants and dinner clubs—so dress to impress and bring some business cards.
San Diego Creative Investors Association
Joining the San Diego Creative Investors Association might be just the boost you need to start building some wealth-generating assets. It's often hard to get past the first couple of hurdles in terms of real estate investing for beginners, but joining a supportive of like-minded entrepreneurs with goals of success can really help you get started.
If you're an experienced investor, it's still a great idea to join the SDCI. Expanding your network never hurts, whether you're flipping single-family fixer-uppers or renting out commercial real estate. Additionally, membership in the SDCI will give you huge discounts at vendors you most likely use already, along with opportunities to present your latest deals to a warm audience.
They say passive real estate is one of the greatest ways to build wealth. But any real estate analyst or expert will tell you that active real estate is actually a more honest term. Investing success requires investing in yourself, and not just buying stock in a real estate investment company. Real estate investors need to work on increasing their knowledge and improving the strength of their network. A real estate investing club like the San Diego Creative Investors Association can help you achieve that growth.
Bonus Video
3 Steps to Create an Invisible Investor Strategy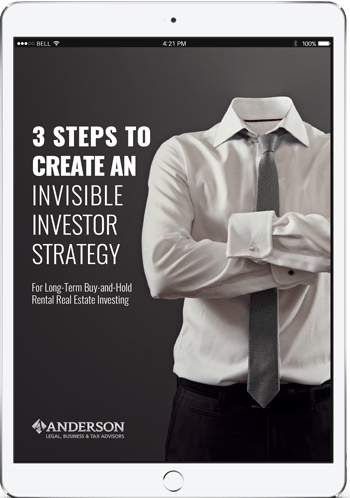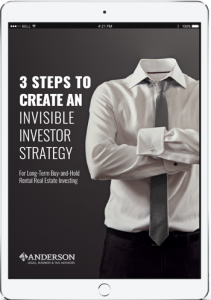 The greatest mistake that people make when it comes to asset protection for real estate is not understanding the risks that are waiting out there for them. This eBook reveals the structure you should follow to ensure your hard earned money is protected from frivolous lawsuits and costly tax mistakes.