When you think of real estate investing, you probably think of buying a fixer upper, remodeling it, and putting it back on the market—a process commonly known as flipping homes. You might even think of owning a rental property and earning income on the monthly rent; whether it's commercial real estate or residential real estate. But there is one very lucrative area of real estate that often goes overlooked, and that's mobile home investing.
How to Start Mobile Home Investing
Buy and Flip Mobile Homes
Create a Mobile Home Park
Rent Out a Mobile Home
Sell Mobile Homes
As many as 20 million Americans live in mobile homes, which is around six percent of the population. Mobile homes tend to get a bad reputation because people often confuse mobile homes with trailers, which makes them think of a trailer park. There's nothing wrong with living in a trailer, but some trailer parks are heavily associated with poverty and crime—something that is unappealing to most homeowners.
What is a Mobile Home?
A mobile home is a prefabricated home built in a factory. In the 1940s and 50s, these homes were pretty much the same as trailers—that is, the kind you might use for camping or a road trip. A mobile home would be towed to the mobile home park and then secured to the ground. Even though we say "permanent," technically a mobile home could be moved again because it was on wheels.
However, over the decades, mobile homes have grown larger. In fact, many of them are pretty much the same size as a small house. At 14 to 18 feet wide and 66 to 80 feet long, you're looking at up to 1,440 square feet for the average mobile home today. At this size, mobile homes can't just be towed down the freeway or beltway; they require special permits and a truck that can carry oversized loads.
The manufactured housing of a mobile home is similar to another type of manufactured home: the prefabricated home or prefab. These types of homes are not mobile, rather, their parts are assembled in factories and then transported on site, where the parts are fit together into a home. This is in contrast to traditional constructions, where the raw materials are brought on site and assembled there, from the ground up. You might think that a prefab home is a way to secure affordable housing, but in many cases, they are just as expensive as a traditionally built home.
A real estate investor who likes to think outside the box can find a good source of passive income from becoming a mobile home investor, specifically through mobile home park investing. There are unique benefits to owning mobile home communities as an investment property. You don't have to worry about the maintenance associated with multifamily housing or even a single-family home because all the tenants own their homes. The mobile home owner is responsible for their own house, but pays rent for the land that their personal property (their mobile home) rests on.
How to Start Mobile Home Investing
There are many opportunities to invest in mobile home real estate, including:
1. Buy and Flip Mobile Homes
This avenue of investing in mobile homes is similar to what you would do with a regular building on a permanent foundation.
There are a number of ways to buy a home from a motivated seller who will give you a discount. You could look for a foreclosed mobile home. You could drive around looking for sale signs. You could also browse Craigslist or even a realtor website like Zillow. Mobile home prices range widely, with some larger mobile homes priced over six figures.
Once you've purchased the home, you can renovate it as needed and put it back on the market. A mobile home is different from a site built home, and you will need to consider that during renovations. Also, despite the fact that the mobile home is the property of the owner, it does not sit on private land and there may be a homeowner's association that has certain rules about making changes or improvements. Speaking to the property manager will clue you into what you can and can't do when renovating the property.
Looking for more investment opportunities? Join our Infinity Investing Workshop for expert-driven money strategies that work!
2. Create a Mobile Home Park
This is an excellent opportunity an investor looking for a more passive real estate investing opportunity, because all you need to do is buy the land, make some light improvements, and create the legal structure around a mobile home park. You won't have to invest time or money in developing the lots yourself because your tenants are responsible for bringing their own homes to the site.
Land is a lot cheaper than improved land, and in some states, you can even scoop up hundreds of acres for the same price you'd pay for a house. You just need to make sure zoning laws would permit you to subdivide the land into lots and that those lots could be used for mobile home spots.
You may need to purchase several separate lots in order to create the mobile home park. If that's the case, then you might consider a blanket mortgage to consolidate the investment into one easy loan.
Whether or not purchasing a manufactured housing community or developing one from scratch is a good investment really depends on several factors, including the location. Another related alternative to the mobile home investment is an RV park. An RV park will have significantly fewer infrastructure costs because people are coming there to camp. As such, you may not need running water or electricity. Additionally, there are peer-to-peer apps that can connect unused lots in your RV park to campers looking for a place to rest.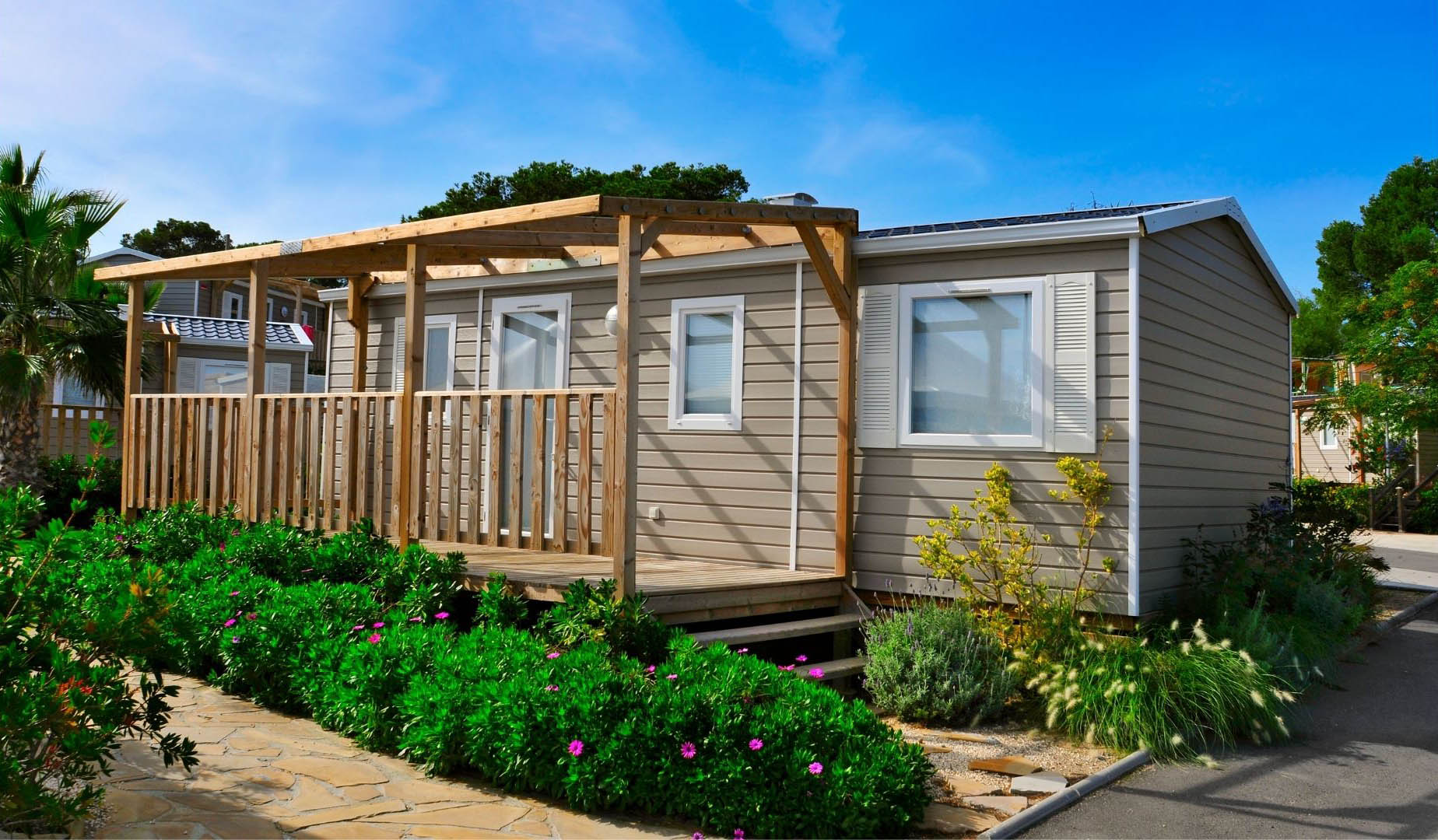 3. Rent Out a Mobile Home
Another alternative to flipping a mobile home in your possession is to just to rent it out. In order to gauge how much you can charge for rent, you'll have to find some comparable properties in the area and charge accordingly.
Keep in mind that if you own the mobile home, you will have to pay rent yourself for the land, so you need to factor that into your rent pricing. In most cases, the rent you pay to the landowner will only be a few hundred per month, if that, and you won't need to pay property tax (because you don't own the land, you rent it).
Another thing to consider if you are the owner of a mobile home park is that you might have a harder time attracting renters because the cost of owning a mobile home is so low. That said, you'd probably do better renting the land the mobile home is on and letting the tenants deal with the hassle of maintaining it.
4. Sell Mobile Homes
The eCommerce economy has created new opportunities for enterprising individuals to sell things they don't even own; instead dropshipping it from the supplier to the customer. All these retailers need to do is create a website and business presence; relying on the manufacturers to supply the items they sell.
You could use this business model to actually sell mobile homes to customers without having to build the mobile homes yourself. Of course, you will need to have some legal considerations in place, so what you save in inventory, you'll pay in professional services. Plan to set aside money for lawyers and accountants.
Incidentally, this is actually the business model that most brick-and-mortar independent furniture stores use. They don't actually make any of the furniture they sell; they import it from a manufacturer. Dropshipping is even better because you don't have to show the merchandise in person; you can just ship it when it's ordered.
Pros of Mobile Home Investing
Now that we've covered the ways you can make money through mobile home investing, let's talk about some of the pros of doing so:
1. Less Competition
The housing market goes through ups and downs, and sometimes it's very competitive. As mentioned, the mobile home market is pretty overlooked for a variety of reasons. One is reputation, and the other is that mobile homes are not as common as homes or apartments, so many real estate investors don't even consider them as a possibility. ]
2. Lower Startup
As mentioned, unimproved land is a lot cheaper than improved land (land with a building on the lot). That means your startup costs will be lower. You will have to pay for improvements such as paved roads, water, sewer, and electricity, but you won't have to pay for any of the actual homes—those will be provided by your tenants. As such, it's easier to get in the door with mobile home parks in terms of initial startup costs, and consequently if your marketing is good, you'll have a positive cash flow sooner.
3. Lower Renter Turnover
There is an annual 45 percent tenant turnover rate in multifamily properties, according to some estimates. But these numbers relate to apartment buildings, not mobile homes. Mobile homes are a more permanent arrangement for the owners. Additionally, the cost of moving a mobile home off the lot is fairly cost prohibitive, at around $10,000. All of this bodes well in terms of reducing tenant churn, which looks good for the consistency of your net operating income.
Cons of Mobile Home Investing
While there are plenty of benefits to investing in mobile homes, there are a few drawbacks as well, including:
1. Less Demand
As mentioned, around six percent of the population lives in mobile homes, which means that mobile home living is not normative. You might have a harder time finding tenants than you would if you owned an apartment building. Additionally, the cost of mobile homes is so low you will have a harder time renting out mobile homes you own or getting a tenant into an arrangement like rent to own homes.
2. Hidden Costs
There are a number of real estate investors on the internet who have turned zealous about the opportunity afforded by mobile home investing, but it's important to realize that there will be hidden legal and infrastructure costs behind the idea of developing a mobile home park. Maintenance may also be an unexpected cost—not the traditional maintenance of being a landlord (since your tenants will own their mobile home), but the maintenance of running a subdivided community. You may need to hire security to patrol the streets of your mobile home park, for instance. You will also likely need to hire a park manager to oversee day-to-day considerations. Someone or some organization experienced in property management can help you go over the details of mobile home investing that you may not have considered.
Lots of Different Mobile Home Investing Opportunities
Mobile home investing is an attractive idea for an investor willing to think outside the box. While there's less demand for mobile homes as a whole, it can still be a great way to create cash flow if done right. This investment does require a bit of legwork to get started, but it can quickly turn into a passive income stream after the initial setup.
If mobile home investing sounds like an attractive investment opportunity you want to pursue, set up a free consultation with an Anderson Advisor's real estate business expert today! We can help with everything from real estate funding to tax planning to legal structuring.
Free Strategy Session with an Anderson Advisor
Receive a detailed risk assessment to assist in lowering problem areas that could wipe out all of your assets with one wrong move. Speak with an Anderson Professional Advisor to get your FREE Strategy Session. Limited-Time offer: FREE (a $750 value.)