Updated September 24, 2021
The Atlanta Real Estate Investors Alliance (also known as the Atlanta REIA) is an organization for real estate professionals in The Big Peach to network, learn, and continue developing professionally. Investors, lenders, real estate agents, and property managers are welcome to join, as are individuals who want to learn more about real estate.
Steps for Joining the Atlanta Real Estate Investors Alliance
Select the right type of membership
Select the right level of membership
Pay for your membership
Complete the application
Fill out the Goodwill Ambassador Agreement (optional)
Fax or mail in your information
Enjoy the benefits of membership in the Atlanta REIA
Decades of real estate experience is not a prerequisite for joining the Atlanta REIA. You just need to be interested in real estate and dedicated to working with professionalism and integrity.
Whether you're a veteran broker many seasons into a real estate career, or brand-new to the industry, joining a fraternal organization of like-minded individuals focused on investing in real estate is a crucial step toward success.
If you're serious about real estate and located in the Atlanta area, then joining the Atlanta REIA is the best next step.
Why Join the Atlanta REIA?
Many people talk about finding some residential real estate to turn into a rental property. They browse real estate websites or perhaps reach out to realtors at a real estate brokerage—and that's pretty much where their real estate investment interest stops. Often, the reason is a lack of understanding or lack of support for their initial enthusiasm. By investing in their education about the real estate industry and networking with a group of investors, they can get the support they need to actually get in the game.
Even leading real estate agents in the National Association of Realtors can benefit from membership in the Atlanta REIA, especially if Georgia real estate is their bread and butter. The Atlanta REIA is not just for working professionals looking to turn single-family homes into extra income; residential and commercial real estate professionals can benefit from continuing education benefits and networking opportunities to find their next investment property or find a buyer for a property they have up for sale.
Joining the REIA is much easier than attending a real estate school and taking a real estate exam. While a more formal education from real estate courses can be extremely beneficial, a great place to start investigating if real estate investing is really a passion is to join a group already involved in investing like the Atlanta REIA. You just need to fill out a simple form and have a willingness to learn and grow in the real estate market.
Steps for Joining the Atlanta Real Estate Investors Alliance
1. Select the Right Type of Membership
There are two types of membership available. Membership for couples and individuals in the Atlanta REIA starts at $100 annually. If you have a business and would also like to use your membership in the Atlanta REIA as an opportunity to promote and market your business (at live meetings, on the website, etc.) you will need to choose a business membership for just $50 a year extra—a small price to pay for such a large amount of marketing power to a focused group of real estate professionals who could benefit from what your business offers.
2. Select the Right Level of Membership
Currently, there are two levels of membership. Silver charter individual membership allows you to attend monthly meetings, special interest groups, networking events, and online meetings and webcasts—all for free. You will still have to pay for training seminars and workshops, but you'll get 20% off the ticket price. However, you will get to attend the social networking workshop and the new member orientation workshop for free. You will get great discounts on services and goods from local and national real estate vendors. You can also be a Goodwill Ambassador and receive as much as $50 per new member referral. Additional silver memberships cost $50 per person.
Individuals who want to promote their business should pay $50 extra and get a silver charter business membership. While getting all the benefits of a silver individual membership, you'll also get a standard listing in the Atlanta REIA Business Members Directory and an ad on most pages of the atlantareia.com website for the duration of your membership. You can set up a vendor table at select monthly meetings for a 20% discount. You can be a guest speaker or a sponsor of a monthly meeting, networking event, webcast or special interest group. There are other marketing opportunities that come up throughout the year. Additional silver memberships cost $50 per person.
The next level of membership is Gold. You can get more out of your individual membership or include another person in your membership by becoming a gold charter member for $300. You can share your gold charter membership with one other family member (like a spouse or business partner), but additional persons after that will need to pay an additional $150 per person. Like the silver charter membership, you will get free access to monthly meetings, special interest groups, networking events, and online meetings and webcasts—along with getting to attend training seminars and workshops at a 50% discount. You will get the same free admission to the social networking and new member's workshops, along with great discounts at vendors. If you become a Goodwill Ambassador, you will get to collect up to $150 per referral.
Couples or business partners who want to promote their business can pay just $50 and become gold charter business members. They'll get all the benefits of gold membership, but they'll also get a second, larger ad on most pages of the atlantareia.com website, and on the mobile site. They'll also get an enhanced business profile page in the Atlanta REIA business members directory. Additional gold charter business memberships cost $150 per person.
3. Pay for Your Membership
You can make a payment right on the website using PayPal, or a Mastercard, Visa, Amex, or Discover Card. The membership fee is non-refundable and renews annually. If you want to cancel it for the coming year, you must send in a signed request in writing before it renews.
You can also make a payment by writing out your credit card info on the application before mailing or faxing it in.
4. Complete the Application
This application becomes available once you make payment via the website, or you can request it be sent to you via email if you don't want to pay online.
The two-sided Atlanta Real Estate Investors Alliance Application and Agreement asks for some basic information like what type of membership you'd like, name, address, email, and phone number. It's really that simple. You will need to sign both sides and acknowledge that you read the fine print of the agreement. For example, you should note that the Atlanta REIA maintains the right to photograph you at events and use those photographs (without naming you) for promotional purposes.
5. Fill out the Goodwill Ambassador Agreement (optional)
If you want to make some extra money for referring other members into the Atlanta REIA, fill out the Goodwill Ambassador Agreement. Read over the points of this one-page agreement to understand the rules around it. For example, referred members must be in the Atlanta REIA for around 30-45 days before you get your payment, and membership renewals after the initial year do not produce referral fees. Since there's no cost to become a goodwill ambassador, and the application is just a one-page document, there's no harm in setting yourself up to collect some extra cash for getting friends, family, and acquaintances to sign up.
6. Fax or Mail in Your Information
The Atlanta REIA requires hard copies of their membership agreements, and therefore you have two options for submitting your application. You can fax in your application to 770-216-1560, or mail it to the Atlanta REIA at 2700 Braselton Highway, Suite 10-183, Dacula, GA 30019. While mailing in your application is certainly acceptable, if you want to take care of it right away, faxing it in is certainly more expedient. If you already made a payment online, you should indicate such on your application to avoid double payment.
7. Enjoy Your Membership in the Atlanta REIA
One your application has been received and the payment processed, you'll be granted access to the members-only section of the site. If you have any questions about the process, you can contact 678-701-7160 or email admin@atlantareia.com.
Benefits of Joining Atlanta REIA
One great benefit of joining the Atlanta REIA is getting access to discounts with dozens of vendors that real estate professionals will most likely need to work with, such as Lowe's Home Improvement Warehouse, Sherwin Williams, and Roto-Rooter. Of course, running a business will have some ancillary needs like accounting and travel, so the Atlanta REIA also offers its members discount relationships with vendors like Intuit QuickBooks, Office Depot, and Budget Car Rental. The exact nature of these discounts is not available to casual browsers of the Atlanta REIA website—but if you want more exact details, you can become a member or contact them directly to learn more.
The second great benefit of joining the Atlanta REIA is access to all sorts of educational opportunities. Monthly meetings are held on the second Monday of the month, starting at 6:00 PM local time. Members are encouraged to come earlier and network. The main speaker will generally present from 7:45 to 9:15. There are also a number of other specialty events, seminars, and focus groups, like the short-term rental owners networking group and the creative dealmaker's lunch. These events provide opportunities to deepen your understanding of real estate, along with the opportunity to network with like-minded individuals. Some meetings, like those about renovation, may even consist of touring an actual property.
The most significant benefit of joining the Atlanta REIA is building your network and developing your networking skills. Periodic events and meetings like the Atlanta Real Estate Investors Shark Tank provide opportunities to meet the right investor, property owner, lender, property manager, or real estate agent to help you make your next deal. Networking in real estate is much easier and much more effective when you join an organization that sets up times and places for real estate professionals to come together and help one another reach their goals. If you're new to networking, the Atlanta REIA provides a safe and fun environment that is open for all types of people to come together and talk about real estate.
Atlanta REIA Annual Events
The Atlanta REIA will host annual events such as all-day seminars, workshops, and trade shows with featured speakers. Some of these events have a ticket price, even for members (albeit at a discount), while others are free for members but require a ticket for non-members. Whether you're an aspiring broker in the real estate pre-licensing phase of your real estate classes, or you're not even in a real estate licensing course, but rather an experienced investor, these annual events belong on your calendar. The networking, educational opportunities, and discussions on real estate trends they afford come only a few times a year, and they are perhaps the best investment you'll make in yourself all year.
Atlanta Real Estate Investors Alliance
Many people who aren't real estate professionals talk about how they want to get involved in real estate, but they don't necessarily take action. Real estate investing for beginners can certainly seem daunting, but when you jump in with a step that's as easy as signing up for an REIA membership, you'll find it becomes far easier to get involved and move toward success.
Joining the Atlanta Real Estate Investor Alliance is not just for someone like an experienced real estate developer. With such a simple application process, there is nothing more to joining than just having an authentic desire to get involved in real estate. This makes the Atlanta REIA a safe haven for seasoned professionals and part-time investors alike.
In fact, a real estate investors association is a fantastic place to learn more about real estate in a supportive environment with professional, honest people—something that can be hard to find on your own. Whether your goal is to work your way up to some commercial real estate, or you just want a few rental properties to supplement your retirement income, if you live in Atlanta or its urban environs, you should get an Atlanta REIA membership.
3 Steps to Create an Invisible Investor Strategy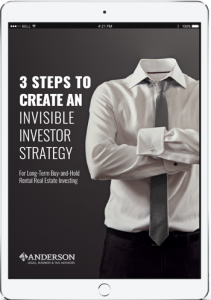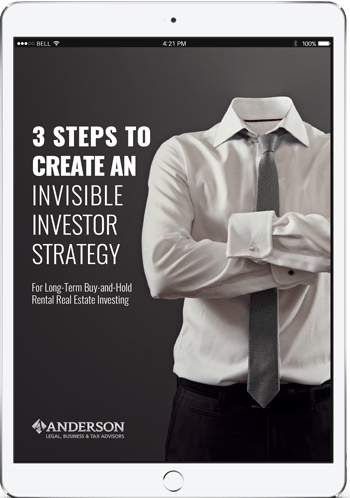 The greatest mistake that people make when it comes to asset protection for real estate is not understanding the risks that are waiting out there for them. This eBook reveals the structure you should follow to ensure your hard earned money is protected from frivolous lawsuits and costly tax mistakes.