In this episode of Coffee with Carl, attorney Carl Zoellner goes over common issues investors face when they enter into joint ventures in real estate investing.
Updated September 21, 2021
Broadly speaking, joint ventures are when two or more parties pool their resources to complete one larger project, then split the results based on their agreement. Many joint ventures involve someone with money but not time, and someone else with time who needs financial resources (or a blend of these elements). In a real estate joint venture, these two (or more) parties join together with a common goal: to complete the deal and turn a profit.
While joint ventures can be great to increase your purchasing power and the scope of your deals, they do come with pitfalls. With the right planning, however, these pitfalls can be mitigated. Two joint venture issues I've encountered most frequently with clients are: mistakes of law and mistakes of foresight.
When I say "mistakes of law," I mean people who go to the trouble of drawing up paperwork and creating a contractual agreement with the terms of the joint venture (JV). Despite their efforts, what these people fail to do is take the extra step of creating an LLC for the JV. Without putting the agreement inside an LLC for asset protection, what these people have actually done is create a general partnership with unlimited liability for each partner.
When it comes to joint ventures, the other main issue I often see involves foresight. What I mean by "mistakes of foresight" is that, too often, joint venturers won't consider what happens in the case of a loss. Without including this critical component in the JV agreement, you open yourself up to havoc in the event of a loss. Your JV agreement should address what will happen in the case of a loss and the progression of who will be paid what in that instance.
Watch as Carl discusses the major issues that can happen when entering into joint venture agreements and how to avoid them.
As always, take advantage of our free educational content and every other Tuesday we have Toby's Tax Tuesday, another great educational series. Our Structure Implementation Series answers your questions about how to structure your business entities to protect you and your assets. One of my favorites as well is our Infinity Investing Workshop.
Additional Resources:
If you have any questions, comments, or feedback about this episode, let us know at cwc@andersonadvisors.com.
BONUS VIDEO

3 Steps to Create an Invisible Investor Strategy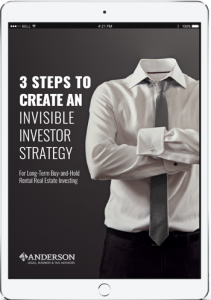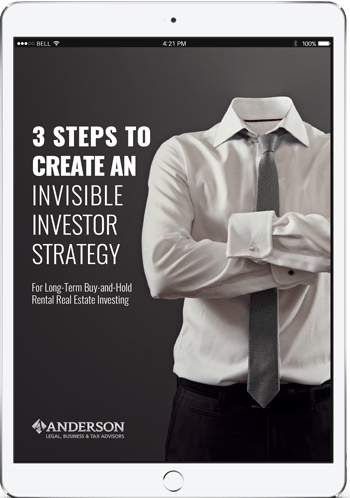 The greatest mistake that people make when it comes to asset protection for real estate is not understanding the risks that are waiting out there for them. This eBook reveals the structure you should follow to ensure your hard earned money is protected from frivolous lawsuits and costly tax mistakes.