In this episode of Coffee with Carl, attorney Carl Zoellner goes over the basic differences between the government-sponsored EIDL and PPP loans designed to offset the economic impact of COVID-19, including how to know if you qualify.
Updated September 29, 2020
The coronavirus (COVID-19) has impacted everyone and everything to varying degrees, and the economy is no exception. To hold back the tide of the pandemic's effects on the US economy, the government is offering loan programs and other economic relief items. Two of these relief items are loan programs sponsored by the Small Business Administration (SBA): the Economic Injury and Disaster Loan (EIDL) and the Paycheck Protection Program (PPP) loan.
One of the most common things I'm coming across with our clients is wondering whether they qualify for one or both of these loans. When it comes to securing much-needed relief, small businesses must navigate a changing landscape rife with misinformation. It's important to understand what each type of loan is for and whether it's a good fit for your situation.
EIDL
Of the two loans, EIDL loans cover a broader range of businesses. Basically, the EIDL is intended for almost any kind of economic injury, hence the "EI" in EIDL. If you're a real estate investor who just owns a few rentals, the EIDL could be a good option for you.
PPP
The PPP comes with additional complexities because it's intended to ensure payroll functions continue through this period of pandemic. Small business owners and even sole proprietors can apply. To qualify, you'll need to demonstrate some kind of payroll. If you're a sole proprietor, then you need to show Schedule C income.
The Takeaway
In some cases, if you own an active small business, you may qualify for both programs. If you're a more passive investor (i.e., own rentals), I would focus more on the EIDL. Then, we could take a look at your individual situation to see if the PPP is right for you.
Overall, these are great programs that you should absolutely be taking advantage of if you qualify. I would highly advise anyone interested in applying to seek the help of professionals. The money ran out fast the first round and will likely run out just as fast this time — the guidance of professionals can make all the difference when it comes to actually securing these funds.
At Anderson Advisors, we've been working diligently with clients to get much-needed relief. We have seen great success with the EIDL and PPP loans, and have two different programs to help you get the funds you need to make it through this time. Moreover, when you work with our experts in small business funding, we can also take a broader look at what's out there in terms of alternative financing sources. For instance, I recently covered Section 139, which can help folks who already have a business established.
Click here to learn more about our Funding Step by Step program and our Funding Assistance Program. Both programs work to get you the funds you need to survive this trying time. There's a lot of information and misinformation about this out there, so it behooves investors and business owners to work with someone who can provide a comprehensive rundown and understands the big picture. Our two programs are led by our founding partner attorneys and CEO, so you can trust you're getting expert guidance. Learn more now.
Watch as Carl explains the main differences between the SBA's EIDL and PPP loans and who qualifies.
Resources mentioned in this video
Schedule your complimentary Strategy Session to receive your free Wealth Planning Blueprint
Empower your business with Platinum membership to ask unlimited questions of attorneys & CPAs with no hourly rates
Got an idea for a future Coffee with Carl? Send it to Carl at cwc@andersonadvisors.com.
BONUS VIDEO

3 Steps to Create an Invisible Investor Strategy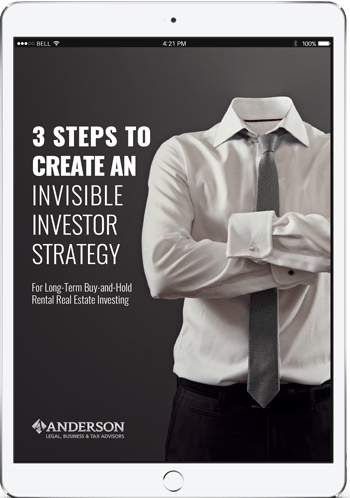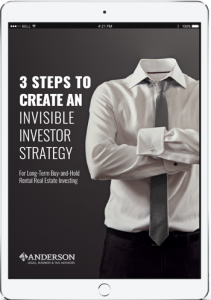 The greatest mistake that people make when it comes to asset protection for real estate is not understanding the risks that are waiting out there for them. This eBook reveals the structure you should follow to ensure your hard earned money is protected from frivolous lawsuits and costly tax mistakes.