Membership has its benefits
Get access to legal and tax professionals without hourly rates… and so much more!
What is Platinum Membership?
As a Platinum Member, you have a dedicated service team that works with your throughout the year to ensure you receive the utmost in quality care for your business needs.
Unlimited Access to Professional Advisors
Tax Education at Your Fingertips
Complimentary Workshop Admission for TWO EACH Quarter
Extensive Self-Paced Learning Opportunities
Up to 60% off ALL Anderson Products and Services
Dedicated Client Service Team
Vast Library of Customizable Legal Forms
One-Stop Online Platinum Member Portal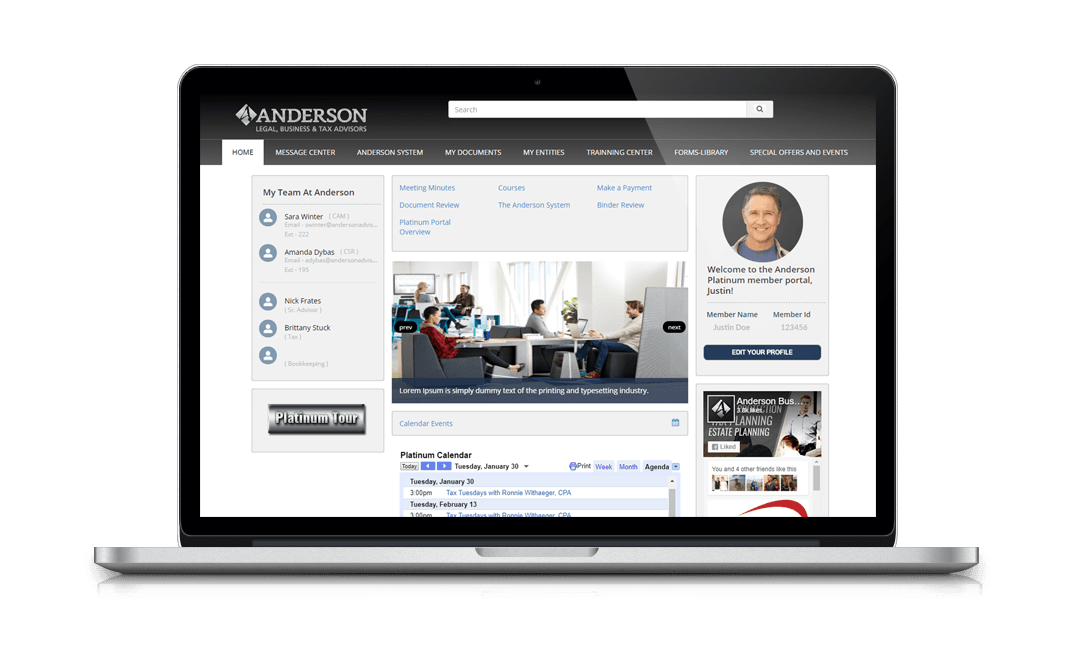 Access to your Private Platinum Portal 24/7
Tax & Asset Protection Event
Create a bulletproof business! Learn how to create a shield around your business and personal assets to protect your future and your money.
This class is for Real estate investors and business owners looking for a basic understanding of how to protect your real estate, business, and personal assets using various strategies taught by expert attorneys and CPAs. This workshop is the first level in our education workshop series. If you have not structured your business or you're worried about your current structure, we highly recommend attending this event.
Choose your plan today and save $2,500
Trust the experts that have been working with business owners and investors for over twenty years. Anderson Business Advisors is your source for building a solid business foundation that helps protect you from lawsuits and maximize your tax benefits. Get started by choosing from the options below.
Entity Setup
LLC or Corporation
Entity Formation – LLC or Corporation**

Complimentary Admission for 2 to the Tax & Asset Protection Workshop

Platinum Membership*
Tax & Asset Protection Workshop
Complimentary Admission for 2 to the Tax & Asset Protection Workshop

Platinum Membership*
* Both packages include your Platinum Enrollment fee. There is a $35 per month membership fee, not included.
**Entity formation does not include state filing fees, which vary by state. Speak with your Advisor for details.
what our clients are saying