How Using
Anonymity

with An LLC or Corporation Can Protect You
In this episode of Coffee with Carl, attorney Carl Zoellner explains the importance of
anonymity

in any entity structure.

Updated April 6, 2021

While anonymity can be an incredibly valuable tool, there are some limitations when we start talking about the different types of businesses you're conducting.

Many times you'll have an active and a passive side of your investing structure. On the passive side, anonymity carries the most value. For example, if you have a brokerage account or rental properties, you can remove your name from ownership on public record.

On the active side of your business, anonymity still retains its value. For example, if you're flipping real estate or involved with wholesaling, you will often have to sign different contracts with many outside parties.

The real protection comes when you are signing on behalf of, or for, your business in your capacity as an officer within your corporation — or as an officer or manager within the LLC that's owned by the corporation.

This may sound like a simple concept, but this question comes up all the time. People are worried about being anonymous and will often say, "Well, I want to be completely anonymous," or "I don't want my name to show up anywhere."

Your name is going to show up when you're signing documents on behalf of your business, but it's more relevant to which capacity your name is showing up. If you are working within a business that's not your own, you may have the ability to sign with a title. You should do this because you are not committing yourself individually; you're committing your business.

Your name plus a title equals the ability to make decisions on behalf of the business–but not connect it to yourself as an individual.
There are some essential distinctions between active and passive investing.
On the passive side, anonymity is a huge benefit.
On the active side, anonymity is still important, and it becomes even more important when you do have to sign those documents. When working with contractors or other third parties, you're using your capacity within your business to limit your liability.
Whether it's passive or active, anonymity can be considered the side dish to the entree. In reality, what gives you the protection are the business entities in the overall structure you set up for yourself.
Anonymity is an excellent tool, as can be seen in the examples above.
As discussed, the real protection comes in at the LLC level and the corporate level. Putting these entities together gives you more protection if somehow somebody breaks through that anonymity.
Anonymity

tends to be a smokescreen.

We use states that allow for anonymous filing as well as land trusts and personal property trusts as some of our tools for anonymity.

While you can gain some anonymity using these tools, it does take some particular skill to put these things together. Having the right people with the right skills to make sure all these are working together will be the best course of action — and often, the most cost-effective.
The Takeaway
Ultimately, your entity structure should be as unique as your individual investing and business game plan. There's no one-size-fits-all strategy for integrating entities such as corporations, LLCs, and anonymity vehicles into your business structures. For the best results, you'll need an individualized plan.
That's why I encourage you to take advantage of a complimentary Strategy Session now. It's a $750 value, and you'll walk away with a custom entity structure that's ideally suited to YOU, not just any Joe Investor. You can schedule online or by calling 888.871.8535.
Watch as Carl covers using anonymity in your business structure to protect yourself.
Resources mentioned in this video:
Got an idea for a future Coffee with Carl? Send it to Carl at cwc@andersonadvisors.com.
3 Steps to Create an Invisible Investor Strategy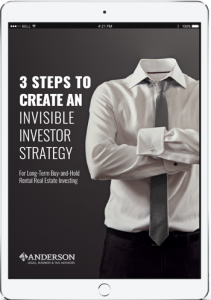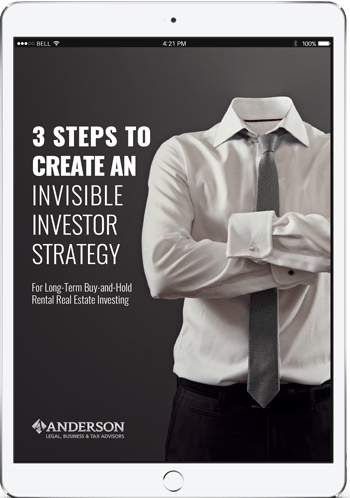 The greatest mistake that people make when it comes to asset protection for real estate is not understanding the risks that are waiting out there for them. This eBook reveals the structure you should follow to ensure your hard earned money is protected from frivolous lawsuits and costly tax mistakes.