Can One Innocent Mistake Take Down Everything You've Worked For?
It absolutely can and we can show you how to avoid that.
"I'll pay for the book, and the shipping! Tell me where to send your completely
FREE

copy today!" ($24.95 value)

ASSET PROTECTION FOR REAL ESTATE INVESTORS WILL HELP YOU:
Choose the right business structure for your investing goals
Protect your assets to make sure creditors can't take everything you own
Understand entity structuring for real estate activities​
Know the legal requirements for your investing — without all the legal mumbo-jumbo
Your FREE Book Offer Includes:
A clear Real Estate Investing Strategy Session consult with an expert advisor who knows all the techniques top investors use AND knows how to use them in YOUR plan. ($750 value)

GET YOUR FREE BOOK TODAY!
BUT HURRY, THIS FREE OFFER IS ONLY AVAILABLE WHILE SUPPLIES LAST.
Clint Coons is one of the kindest and most gentle human beings you can ever meet. I wouldn't want to go against him in court, that's why I want him on my team. As a Platinum member of Anderson Business Services, their team is attentive, responsive, and dedicated to providing service. They are a reflection of Clint's intelligence and wisdom.
I love Anderson, they have been able to walk me through every step of the way for creating my businesses and doing taxes. The best part about them is they don't just tell you what to do, they educate you on why things are the way they are, and the tax and business laws. module Advanced settings.
I am more then impressed by the depth and clarity of the information. Also a big thank you to Clint Coons for breaking everything down in the training videos on Youtube! I learned more from Clint in those short training videos about setting up my business in the proper structure than I had learned in all my business experiences up to now. Thanks again, Clint Coons.
Clint wrote the book on asset protection for real estate investors. Literally.
He's an attorney, a successful real estate investor, one of the founding partners of Anderson Business Advisors, and a speaker with a goal to share his knowledge and education with other investors so EVERYONE WINS. 
"Asset Protection for Real Estate Investors" is every investor's reference guide to protecting the wealth you create from the people who want to take it from you. And they are out there. Clint shows you how to avoid becoming an unknowing and unwilling victim.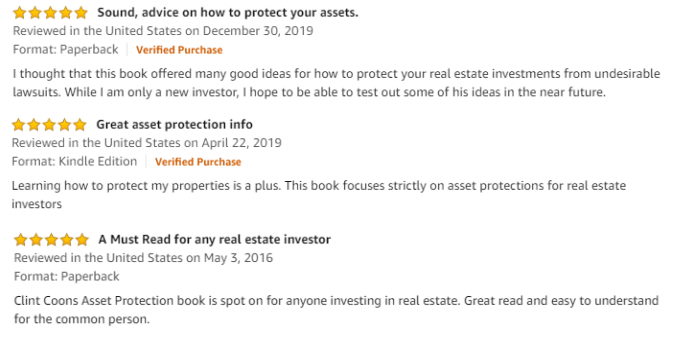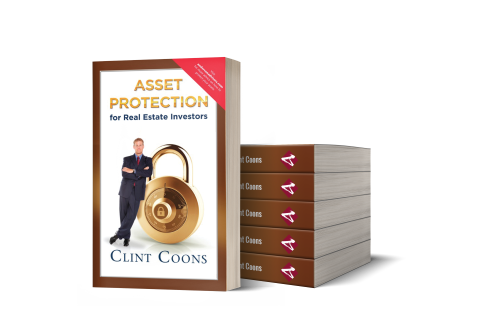 Supplies Are Limited – Request Your Book Today!
If you're thinking, does any of this even apply to me? I already have an attorney or a CPA.
Here's the cold hard truth of the matter.
We know there's a lot of professionals out there that talk about asset protection and tax planning for real estate investing professionals, and quite frankly, some of them may actually understand what it is they're talking about.
But, at Anderson, we're unique. And what we mean by that is that we don't only have attorneys on staff, we also have CPAs that work together under one roof to create overall plans for real estate investors to help them move their game forward.
Because, at the end of the day, you want to have a plan that's going to help you achieve your goals and protect what you've worked for.
Now, everyone has different goals as to why they're getting involved in real estate investing.
You might want to build a legacy of wealth.
Or, you're thinking about retirement income.
Maybe you're getting started in real estate investing or have been investing because you want to supplement your current income.
Whatever your decision to start down this road, Anderson is a critical piece of helping you build your real estate investing portfolio. 
Start now by requesting your complimentary copy of "Asset Protection For Real Estate Investors" for real estate investors, by a successful real estate investor.
Listen, it's FREE, so what do you have to lose?