3 Steps to Create an Invisible Investor Strategy
Maximize Your Profits and Protection with these tips for Long-Term Buy-and-Hold Real Estate Investing
The greatest mistake that people make when it comes to asset protection for real estate is not understanding the risks that are waiting out there for them. This eBook reveals the structure you should follow to ensure your hard earned money is protected from frivolous lawsuits and costly tax mistakes.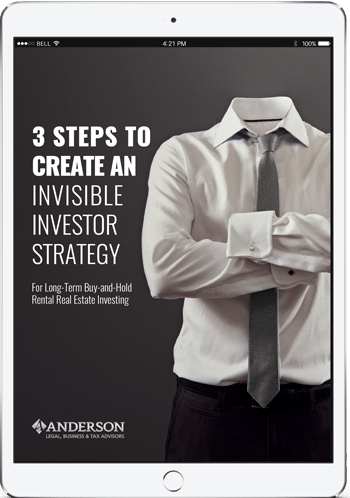 Get the FREE 3 Steps to Create an Invisible Investor Strategy eBook now, by entering your info.
We'll never share or sell your info.
Share this with your friends
How to purchase and transfer real estate without raising red flags on your privacy
Why you need to appear as if you own nothing
What legal dangers renters and tenants might bring you and what it means if you're sued
Why land trusts should be your #1 tool as a real estate investor
"Anderson played an integral part in helping us establish our real estate investing business structure, our living trust estate plan, and our LLC business structure. If not for Toby and his team, we may not have known how important it was to structure our businesses in a way that protects our personal assets and our family's legacy. In addition, the team has helped us create a living trust, and every other lawyer just wanted us to make a will (which of course, provides them with more money through the probate process)."
Natasha D.
"The employees at Anderson all have unique different skills. It's really hard for any one person to have all the answers. It's so neat to have the community and the package together in one organization. If you don't have the answer or another advisor doesn't have the answer, they are going to go find it out for you and help you really get to where you need to be."
Carl F.

© Copyright 2017 Anderson Advisors. All rights reserved.