Get Unlimited INSTANT Access to
the 2019 Year-End Tax Planning
Livestream Event with Toby Mathis, Esq.
and Save Thousands GUARANTEED!
If after watching this tax planning event with Toby Mathis you aren't able to save at least 10 times what you paid for it, we'll give you your money back – guaranteed.
Spend $197 to save $2,000! Guaranteed
After watching the livestream recording online you'll not only save thousands of dollars in unnecessary taxes, you'll also learn:
New income strategies to lower your tax bill by building revenue streams with lower rates
Where and when to generate losses

to offset your gains

Adjustments to income

that will help drop your overall tax bracket

Standard versus itemized deductions

and when to use them

Refundable and non-refundable credits

– why they are so important to your tax planning

What are the right questions

to ask your Tax Professional to lower your tax bill each year

How to rent your home

for additional tax-free income

Strategies to protect gains

from high tax brackets

And much more!
This is a one time only special and the recording will not be made available again. GET ACCESS NOW and guarantee yourself thousands in tax savings this year.
2019 Year End Tax Planning Recording with Toby Mathis, Esq.
Sorry, this form is not available.
This event was available to tax package clients only, but for the first time ever, we are making the 90-minute recording available to everyone for just $197.
Get instant unlimited access to watch the recording online as many times as you want.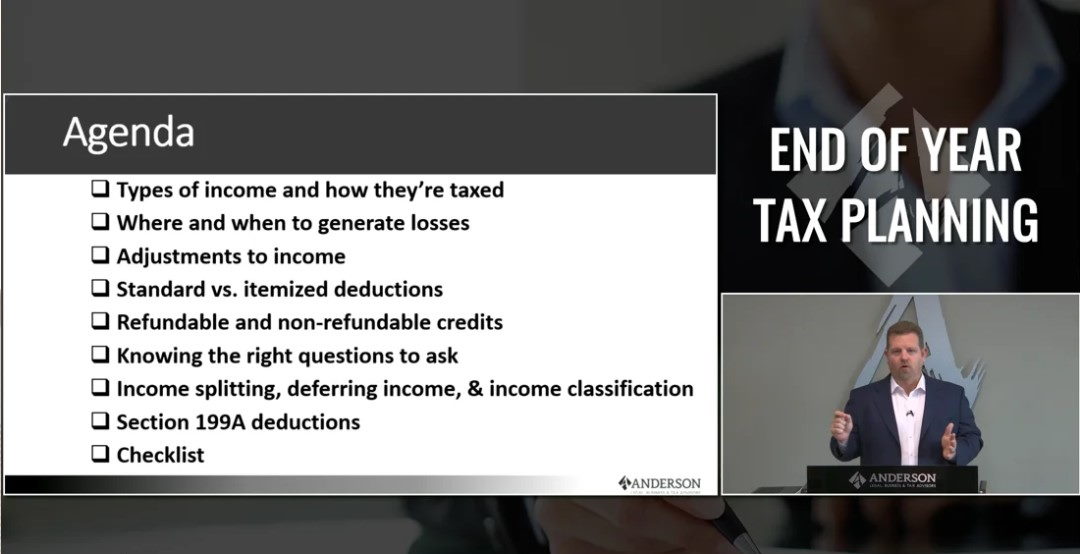 The typical value of working with Toby Mathis on Tax Planning is
over $3,000 for one session
. In this recording, you'll get every tax tip and strategy for your year-end tax planning all for just $197.