The IRS Is a Bigger Threat to Your Business than Lenders or Creditors!
Learn how to win at tax time with secrets from the pros.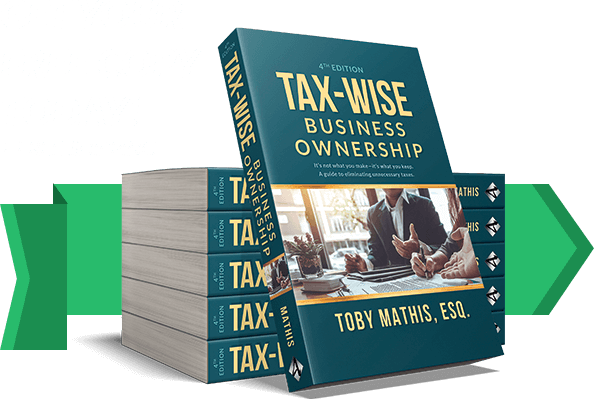 "I'll pay for the book, and the shipping! Tell me where to send your completely
FREE

copy today!" ($24.95 value)

TAX-WISE BUSINESS OWNERSHIP (4TH EDITION) WILL HELP YOU:
Demystify the Tax Code to take advantage of little-used loopholes and deductions
Eliminate confusion and fear when it comes to taxation
Reduce your taxes to the legal minimum with strategies and tips expert tax attorney & small business owner, Toby Mathis​
Your FREE Book Offer Includes:
A clear

Tax Deduction Strategy Session consult with an expert advisor who knows all the techniques top investors & business owners use AND knows how to implement them in YOUR plan ($750 value)!
Get your free copy of Tax-Wise Business Ownership Today!
GET YOUR FREE BOOK TODAY!
BUT HURRY, THIS FREE OFFER IS ONLY AVAILABLE WHILE SUPPLIES LAST.
Clint Coons is one of the kindest and most gentle human beings you can ever meet. I wouldn't want to go against him in court, that's why I want him on my team. As a Platinum member of Anderson Business Services, their team is attentive, responsive, and dedicated to providing service. They are a reflection of Clint's intelligence and wisdom.
I love Anderson, they have been able to walk me through every step of the way for creating my businesses and doing taxes. The best part about them is they don't just tell you what to do, they educate you on why things are the way they are, and the tax and business laws. module Advanced settings.
I am more then impressed by the depth and clarity of the information. Also a big thank you to Clint Coons for breaking everything down in the training videos on Youtube! I learned more from Clint in those short training videos about setting up my business in the proper structure than I had learned in all my business experiences up to now. Thanks again, Clint Coons.
Toby wrote the book on tax strategies for business owners & investors. Literally.
He's an attorney, a successful small business owner, a nationally-renowned taxation attorney, one of the founding partners of Anderson Business Advisors, and a speaker with a goal to share his knowledge and education with other business owners and investors so EVERYONE WINS.
Tax-Wise Business Ownership (4th Edition) is every business owner and/or investor's reference guide to STOP overpaying your taxes and leaving money on the table for Uncle Sam. The IRS is the biggest threat to the success of your business. Toby will show you how to slash taxes to the legal minimum to preserve more of your wealth with this easy-to-read guide.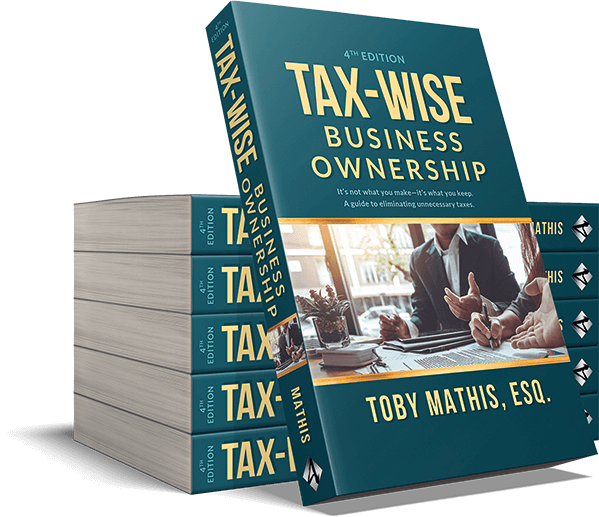 Supplies Are Limited – Request Your Book Today!
If you're thinking — does any of this even apply to me? I already have an accountant or CPA.
Here's the cold hard truth of the matter.
Most accountants and CPAs don't understand small business taxation and all the tax deductions and complex tax laws that are out there that apply specifically to real estate, investing, or small business ownership. We live in a culture where most people just do the things they've been taught, including professionals who are supposed to be looking out for YOUR best interests.
But, at Anderson, we're unique. And what we mean by that is that we don't only have attorneys on staff. We also have CPAs who work together with our taxation and asset protection attorneys under one roof to create overall plans for investors and business owners to help them move their game forward.
Because, at the end of the day, you want to have a tax plan that's going to help you achieve your goals and get there faster.
Now, everyone has different goals for their small business, investing, and personal finances.
You might want to build a legacy of wealth.
Or, you're thinking about retirement income.
Maybe you're getting started with your business or investing or have started to supplement your current income.
Whatever the reason behind why you started down this road, Anderson is a critical piece of helping you grow your business and investing by lowering your taxes to the legal minimum.
Start now by requesting your complimentary copy of Tax-Wise Business Ownership (4th Edition). It's written by an investor & small business owner, for investors & small business owners.
Listen, it's FREE, so what do you have to lose?