Toby Mathis, Esq.
Founding Partner, Attorney, Author & Tax Expert
Toby is a tax attorney, longtime investor, and founding partner of Anderson Business Advisors, one of the most successful business, tax, and legal planning companies in the US. Toby has had companies featured on Inc. magazine's list of the fastest-growing US companies on three separate occasions, his company has been voted one of the "Best Places to Work" by a major publication, and has received a Chamber of Commerce "Business of the Year" award. Toby is a nationally-recognized educator on matters of business and finance. He has sat on the boards of hundreds of companies, including public and private enterprises, nonprofits, and business leagues. Toby is a tax attorney and investor on a mission: to enhance the financial literacy and well-being of our country, creating more financial stewards and savvier investors. He brings a wealth of knowledge to Infinity Investing and is ready to transform the way you think about money and your investments.
Latest Tax and Asset Protection Events
If you're an investor or business owner looking for a basic understanding of how to protect your real estate, business, and personal assets, this event will cover everything you need to know about asset protection and tax savings.
Clint wrote the book on asset protection for real estate investors. Literally.
He's an attorney, a successful real estate investor, one of the founding partners of Anderson Business Advisors, and a speaker with a goal to share his knowledge and education with other investors so EVERYONE WINS.
"Asset Protection for Real Estate Investors" is every investor's reference guide to protecting the wealth you create from the people who want to take it from you. And they are out there. Clint shows you how to avoid becoming an unknowing and unwilling victim.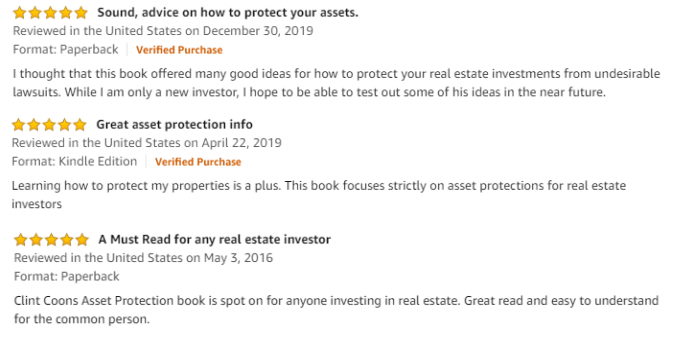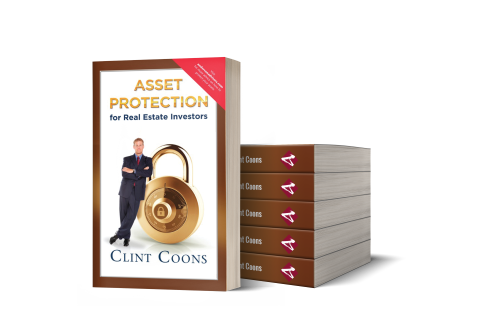 I am more then impressed by the depth and clarity of the information.
Thank you to Zack Childress for telling me about Anderson Business Advisors. Also a big thank you to Clint Coons for breaking everything down in the training Youtube Videos! I learned more from Clint in those short training videos about setting up my business in the proper structure then I had learned in all my business experiences up to now. Thanks again Clint Coons.
I just want to thank the Anderson Group for their help with our taxes this year. When we hired you to do our tax returns, I had no idea how good of a job they would do. After a few phone calls and some scanning of our documents they had saved my wife and I around $8,000.00 in tax savings. Which was a huge savings and a big relief and a step in the right direction for us. Thank You again for your help Clint.
Clint Coons is one of the kindest and most gentle human beings you can ever meet. I wouldn't want to go against him in court, that's why I want him on my team. As a Platinum member of Anderson Business Services, their team is attentive, responsive, and dedicated to providing service. They are a reflection of Clint's intelligence and wisdom.